Spinach Ricotta Pizza
As I was making this Spinach Ricotta Pizza, Robbie was sitting at the table watching me put the toppings on our pizza.
Robbie: "But Dad, that isn't a pizza."
Me: "What do you mean? Of course it's a pizza."
Robbie: "But you didn't put any sauce on it."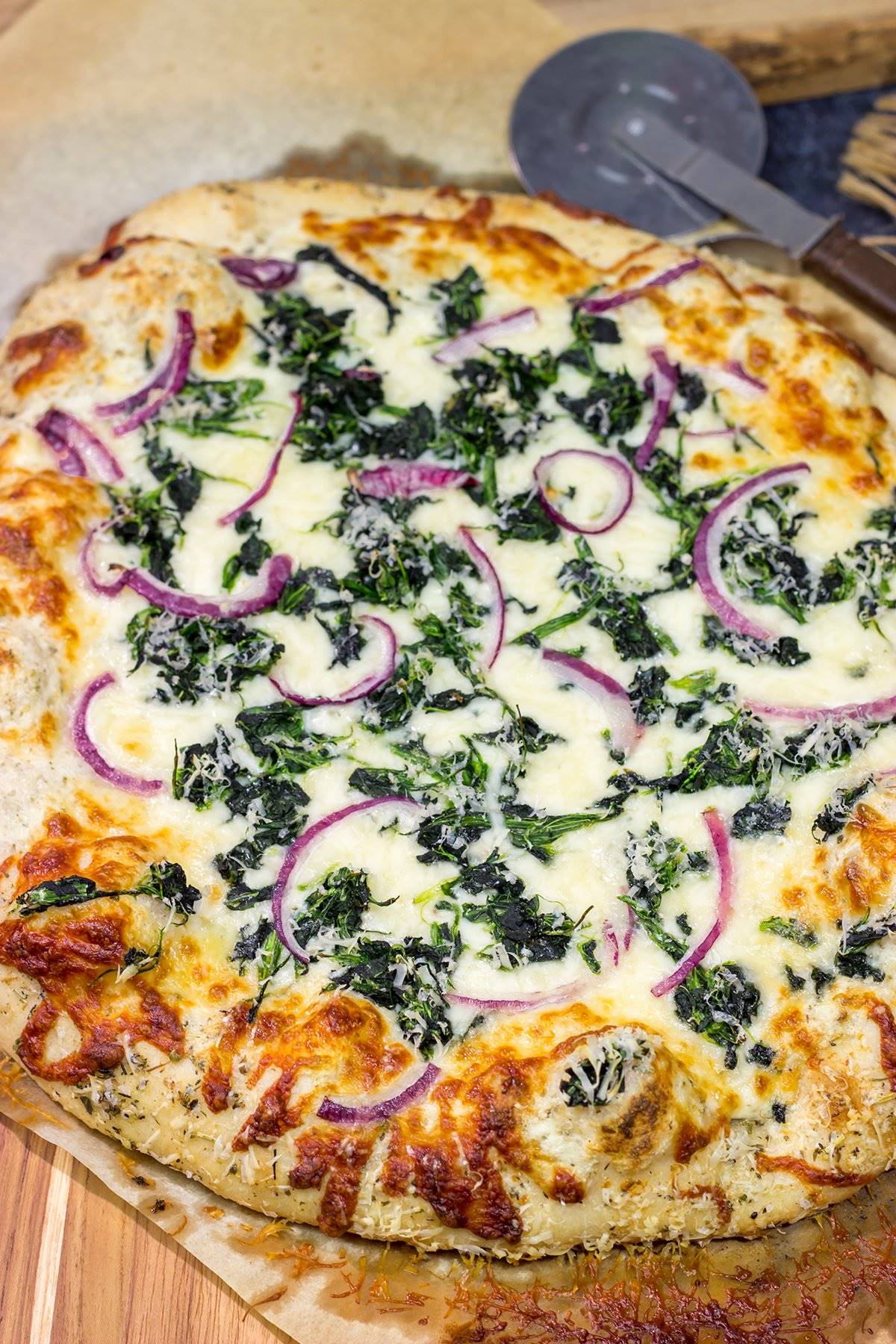 He makes a good point. This pizza is different from a traditional pizza, but it's still delicious! Instead of a classic tomato-based pizza sauce, the base of this pizza is a seasoned ricotta cheese mixture. Ricotta cheese, minced garlic, Italian herbs. The result is a creamy and delicious pizza! I also added chopped spinach and sliced red onions on top for a boost of flavor.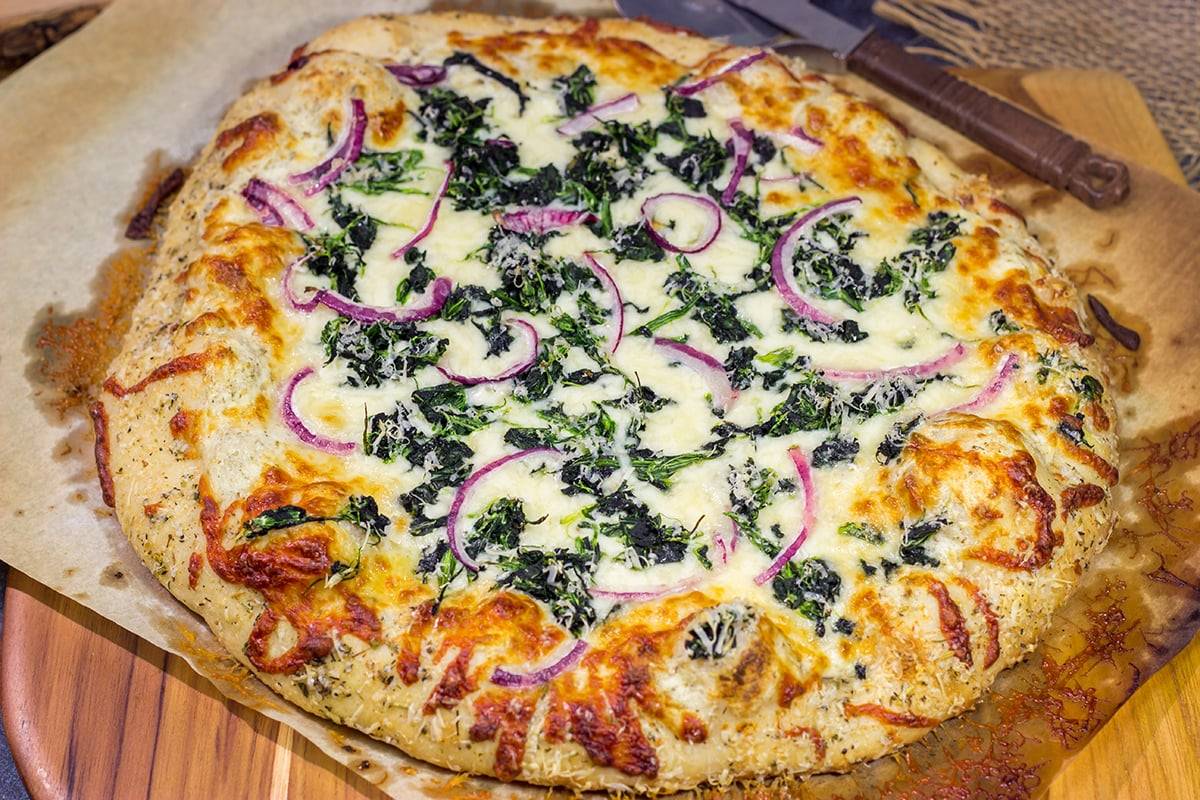 As Laura and I were sitting in the basement eating this pizza (and binging on The Last Kingdom on Netflix), she commented that this pizza reminded her of stuffed shells…just in pizza form. She's kinda right! The flavors are all there, just in pizza form. In fact, next time we make this pizza, I could see serving it with marinara sauce on the side for dipping. (Stuffed shells typically call for marinara sauce in addition to the ricotta filling.)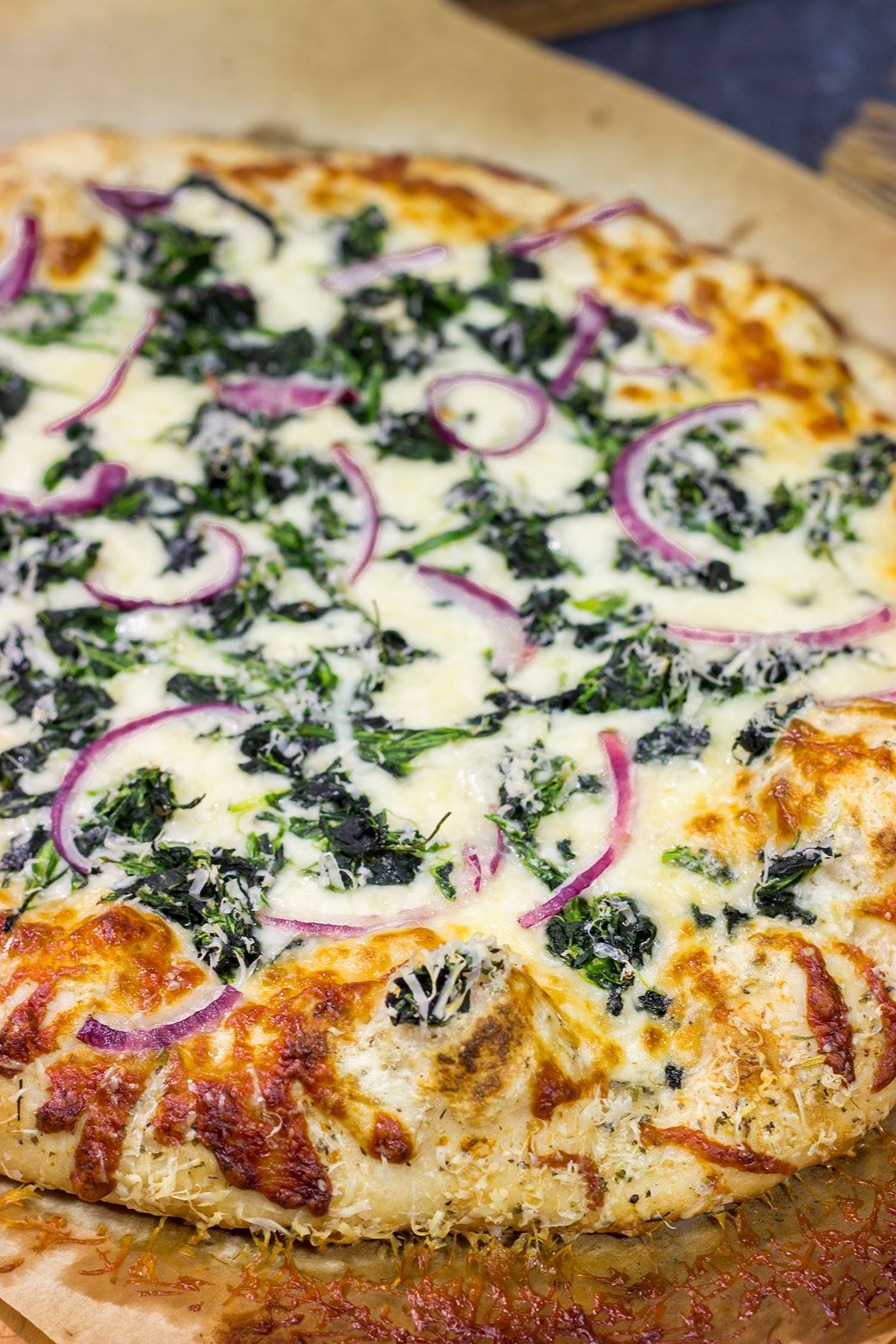 If you're looking to mix up pizza night in your house, give this Spinach Ricotta Pizza a try. It's a delicious combination of flavors, and we certainly plan on making this one again soon! Cheers!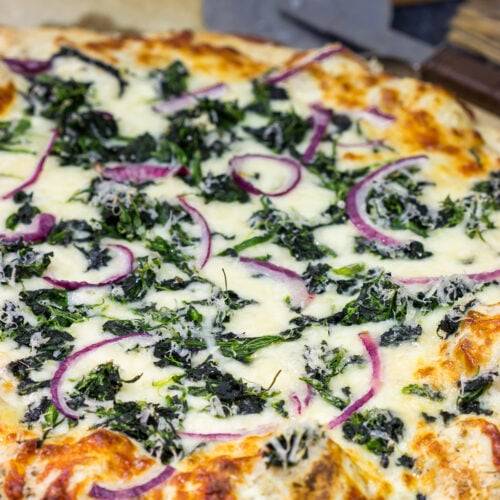 Spinach Ricotta Pizza
Mix up pizza night with this Spinach Ricotta Pizza! Using ricotta cheese for "sauce," this pizza is extra creamy…and extra delicious!
5 from 6 votes
Prep Time: 15 minutes minutes
Cook Time: 13 minutes minutes
Total Time: 28 minutes minutes
Servings: 8 slices
Calories: 205 kcal
Ingredients
16- oz. homemade or store-bought 1 Tbsp 3 tsp Italian seasonings divided 1 tsp ¼ tsp 1 tsp 8 oz. 1 cup 10- oz. frozen chopped spinach thawed ¼ cup thinly sliced red onions ¼ cup
Instructions
Preheat oven to 460°F.
Roll pizza dough into a 15-16" round circle. Place dough on a piece of parchment paper.
In a small dish, combine the olive oil, 2 tsp Italian seasonings, salt and garlic powder. Brush this mixture around the outer 1" of the dough. (This will become the crust for the pizza.)
Using a small bowl, mix together ricotta cheese, remaining 1 tsp Italian seasonings and minced garlic. Using an offset spatula, spread the ricotta mixture evenly on top of pizza dough.
Sprinkle mozzarella cheese evenly on top of ricotta.
Place thawed spinach in a colander and press firmly to drain as much liquid as possible. Sprinkle spinach evenly on top of cheeses. (Note: Adjust amount of spinach to your personal preferences. We used ~½ of a 10-oz. package on this version.)
Finally, spread red onions and grated Parmesan on top.
Bake at 460°F for 12-13 minutes, or until pizza crust is golden brown in color.