Cheddar Cheese Puffs (Gougeres)
These cheese puffs start with choux dough – the same kind of dough that is used for sweet treats like and eclairs. However, instead of going with a sweet filling, that dough gets mixed with shredded cheese. I tossed in a bit of fresh thyme for added flavor, too.
Unlike traditional Southern-style biscuits where the cold butter gets cut into flour, the method for Gougeres calls for melting the butter and making a dough in a saucepan – yup, a "cooked" dough. Once you get the hang of making this dough (it's not hard – I promise!), you'll find all sorts of occasions to make these Cheddar Cheese Puffs!
Speaking of occasions, we served these alongside a bowl of soup. Gougeres also make for great finger foods – maybe as an appetizer with a glass of wine or a beer? They are light as air…and the entire basket will disappear before you even realize it!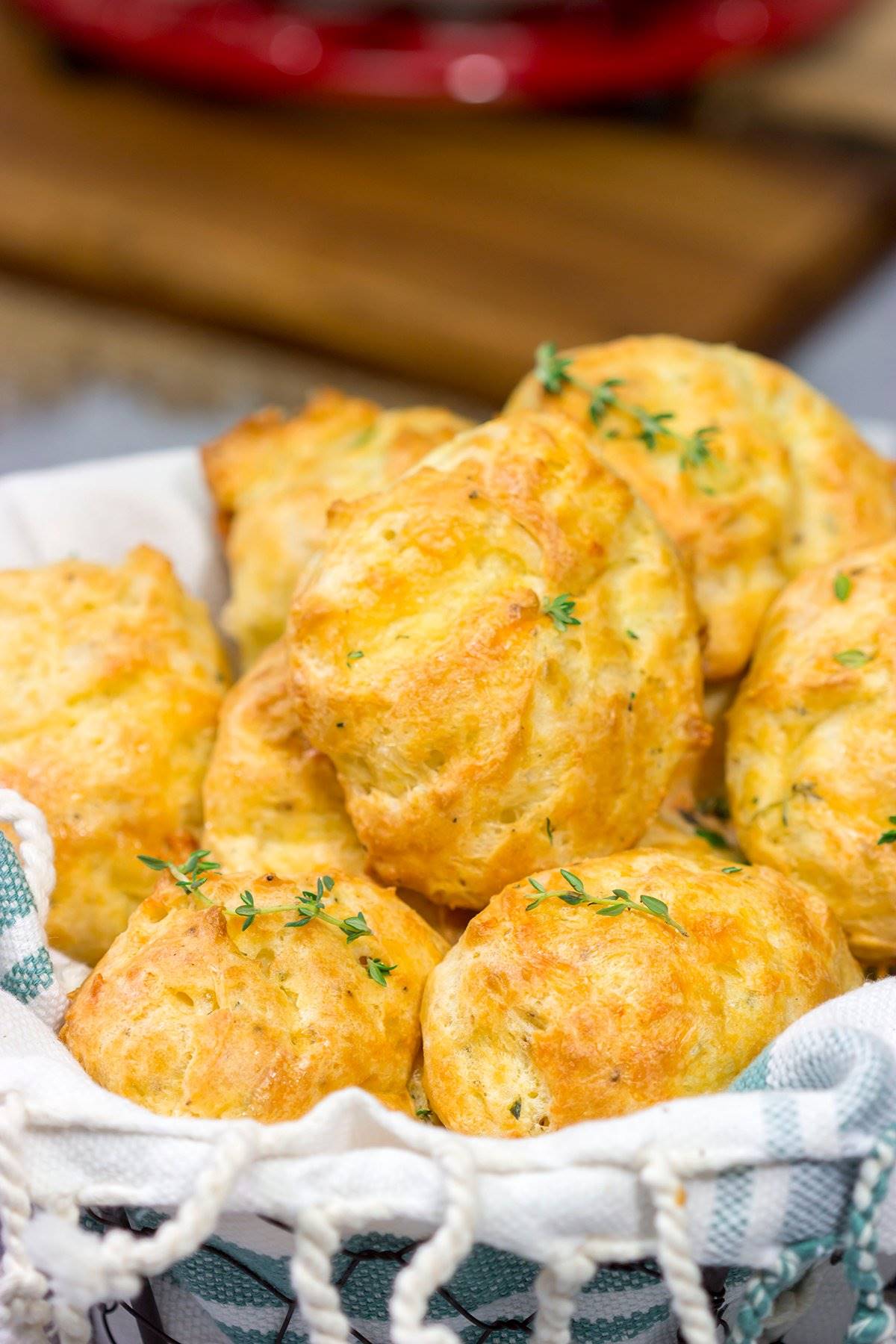 These Cheddar Cheese Puffs are best served warm right out of the oven. However, if you're worried about timing, these do freeze well – just freeze the entire pan before you bake 'em. These puffs can be baked from frozen, although you might need to add a few more minutes in the oven. (Just watch for the tops to turn a nice golden brown.)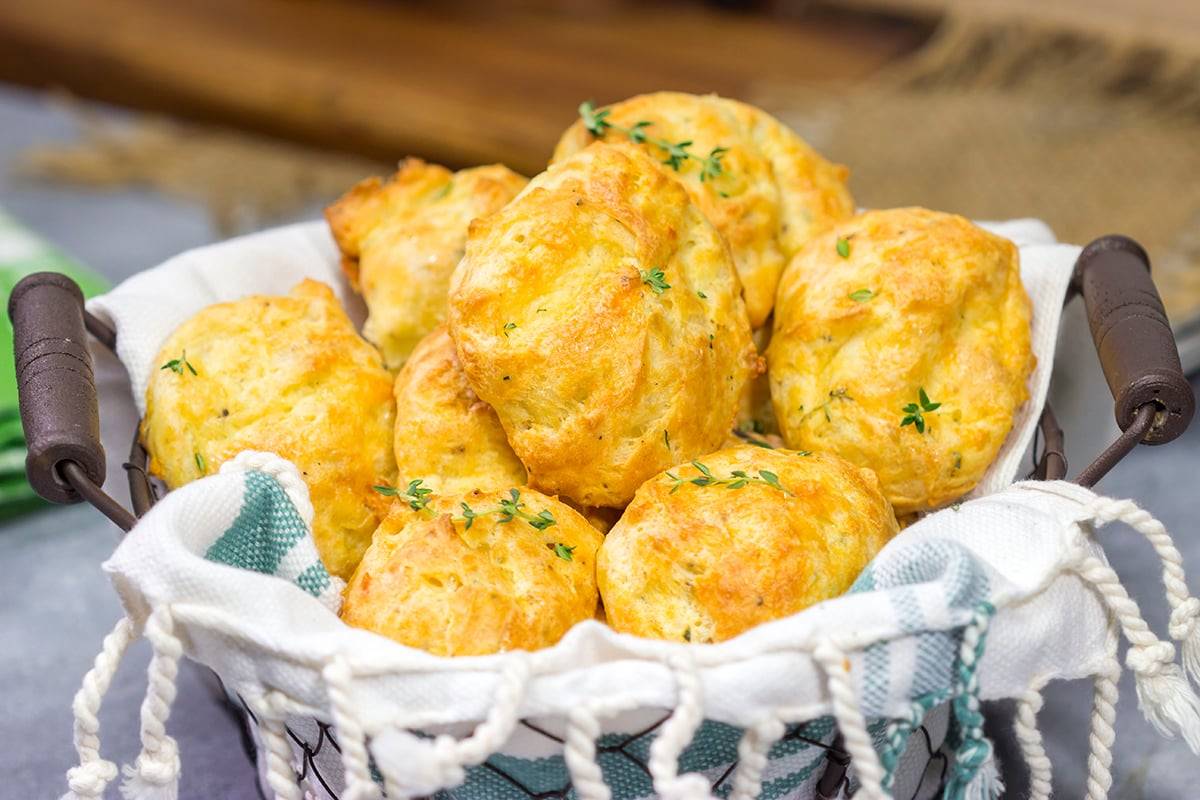 If you have leftovers, I recommend reheating them in the oven (or toaster oven) on low heat – say like 250°F – for a few minutes. These puffs will soften up when placed in a storage container, and reheating 'em brings back that warm melt-in-your-mouth texture with the crispy outer shell.
Gougeres originally hail from France, and many French grocery stores sell bags of frozen, unbaked Gougeres. You probably won't find these hanging out in many grocery stores here in the States…so just make your own instead!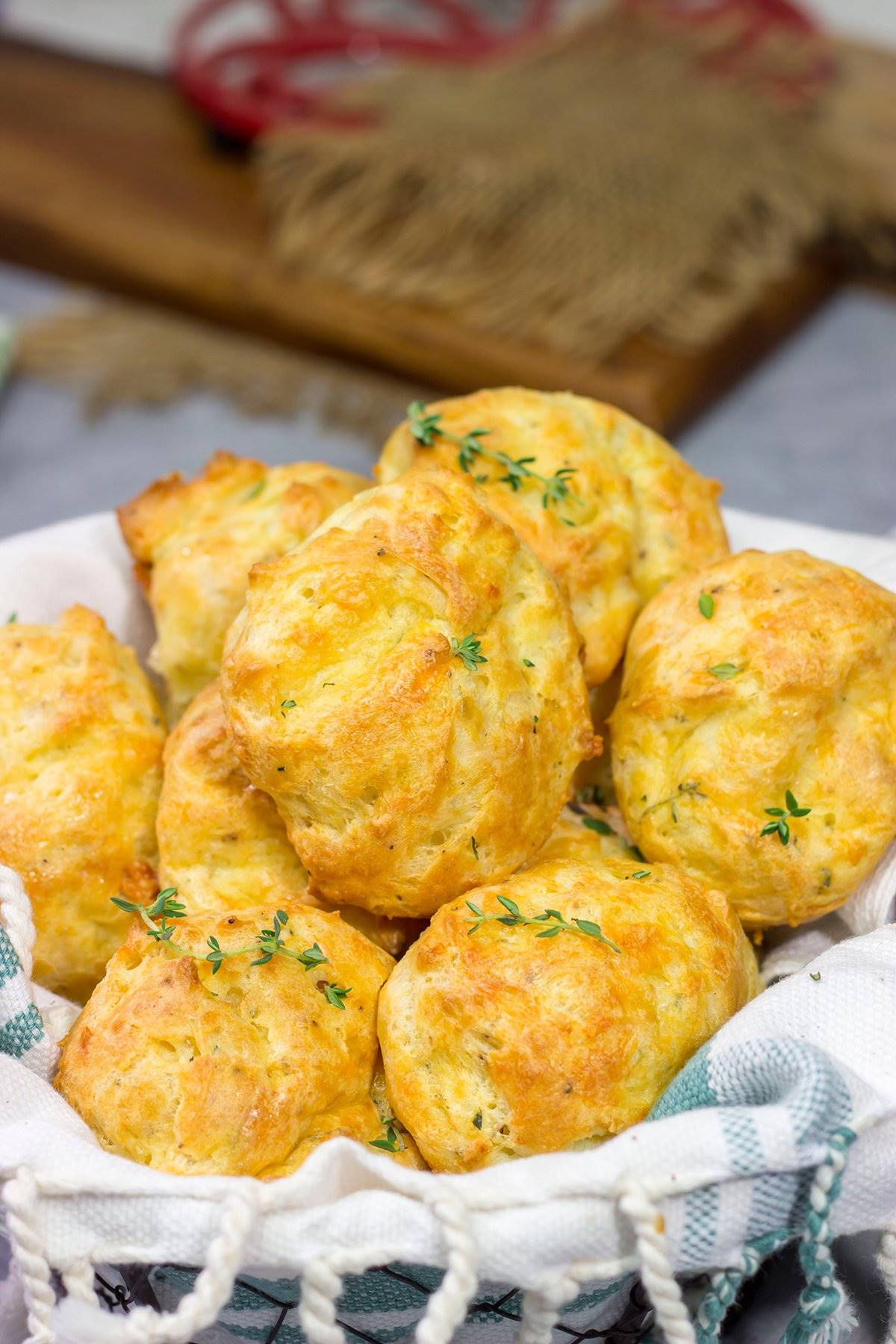 I personally enjoyed these with a sharp cheddar cheese (I used ), but Gruyere and/or Swiss cheeses are also good options. Hmmm – now I'm wondering what would happen if we used a combination of cheeses? I might have to try that next time we whip up a batch!
I hope you give this recipe a try – it's definitely a new favorite in our house! Happy baking!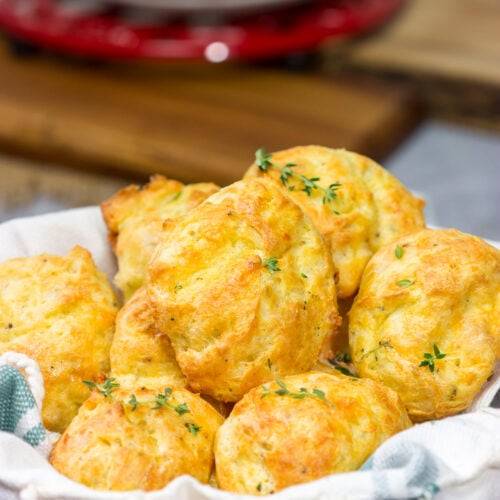 Cheddar Cheese Puffs (Gougeres)
These Cheddar Cheese Puffs (also called Gougeres) are light and airy, and they melt in your mouth. They're great as an appetizer or served next to a bowl of soup!
5 from 7 votes
Prep Time: 30 minutes minutes
Cook Time: 30 minutes minutes
Total Time: 1 hour hour
Servings: 24 pieces
Calories: 84 kcal
Ingredients
½ cup ½ cup water ½ cup ½ tsp 1 cup 4 1 cup plus more for sprinkling on top (see note) 2 tsp ½ tsp ½ tsp
Instructions
Preheat oven to 425°F.
Line a sheet pan with parchment paper; set pan aside.
Using a medium saucepan, add the butter, water, milk and salt.
Place over medium heat until mixture begins to boil rapidly.
Add the flour all at once and stir vigorously to combine. Continue cooking, stirring constantly, for 1-2 minutes, or until mixture forms a ball and pulls away from the sides of the pan.
Transfer mixture into the bowl of a countertop mixer fitted with the paddle attachment. Beat on low speed for 3-4 minutes to allow mixture to cool before adding the eggs.
Add eggs one at a time, mixing after each addition until well combined. Once all the eggs have been added, continue mixing for 2-3 more minutes on medium speed.
Add cheese, thyme, garlic powder and black pepper; stir until well combined.
Using a large spoon, drop small mounds of dough on the prepared sheet pan. (Note: Leave ~1" of space in between puffs.)
Sprinkle more shredded cheddar cheese on top of each mound of dough.
Bake at 425°F for 10 minutes, then reduce oven temperature to 350°F and continue baking for another 15-20 minutes, or until cheese puffs are golden brown in color.