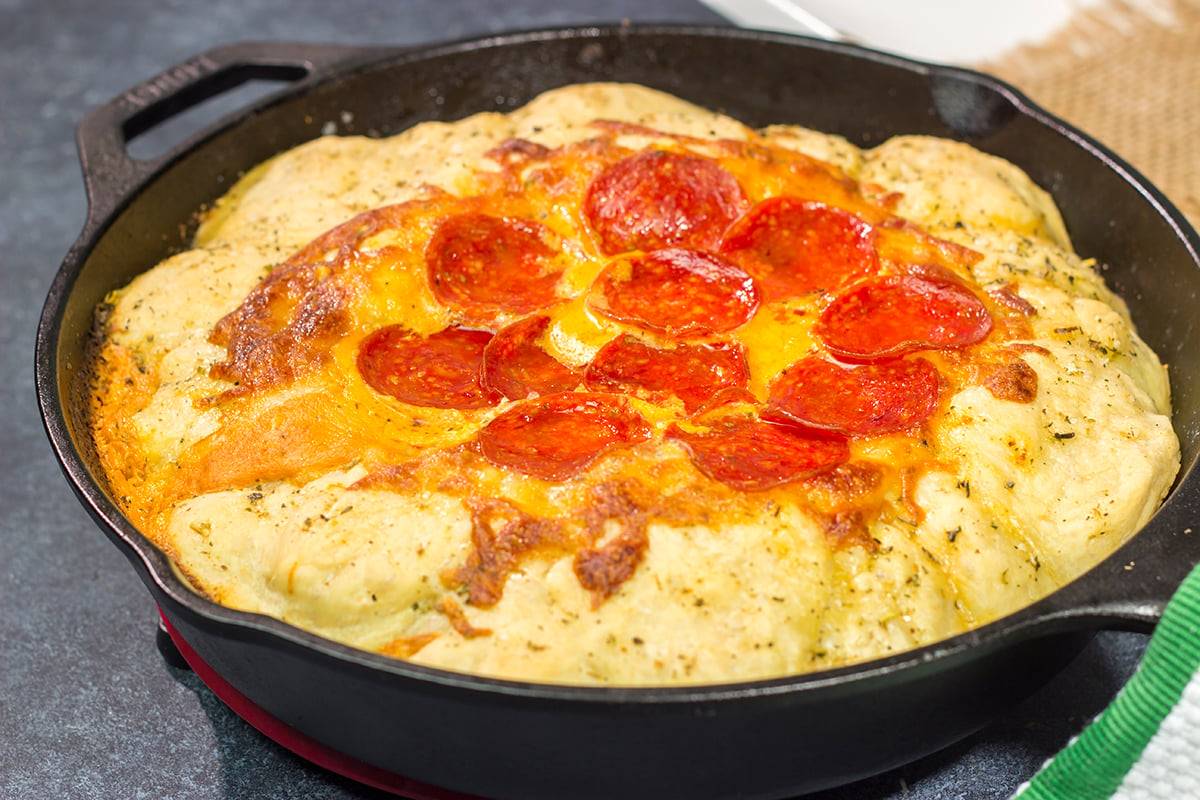 Variations
I kept this dip pretty classic with just sliced pepperoni and herbs. However, you could use this recipe and add your favorite pizza toppings instead. Sausage would be a great substitute for the pepperoni. Or you could go supreme pizza style and add in diced ham, bell peppers, onions, black olives and mushrooms. If it works as a pizza topping…it would work here!
If you're looking for a tasty gameday appetizer (or just a fun recipe to share with friends on a cold winter day), then put this pepperoni dip on the list! I hope you enjoy this one as much as we did in our house. Cheers!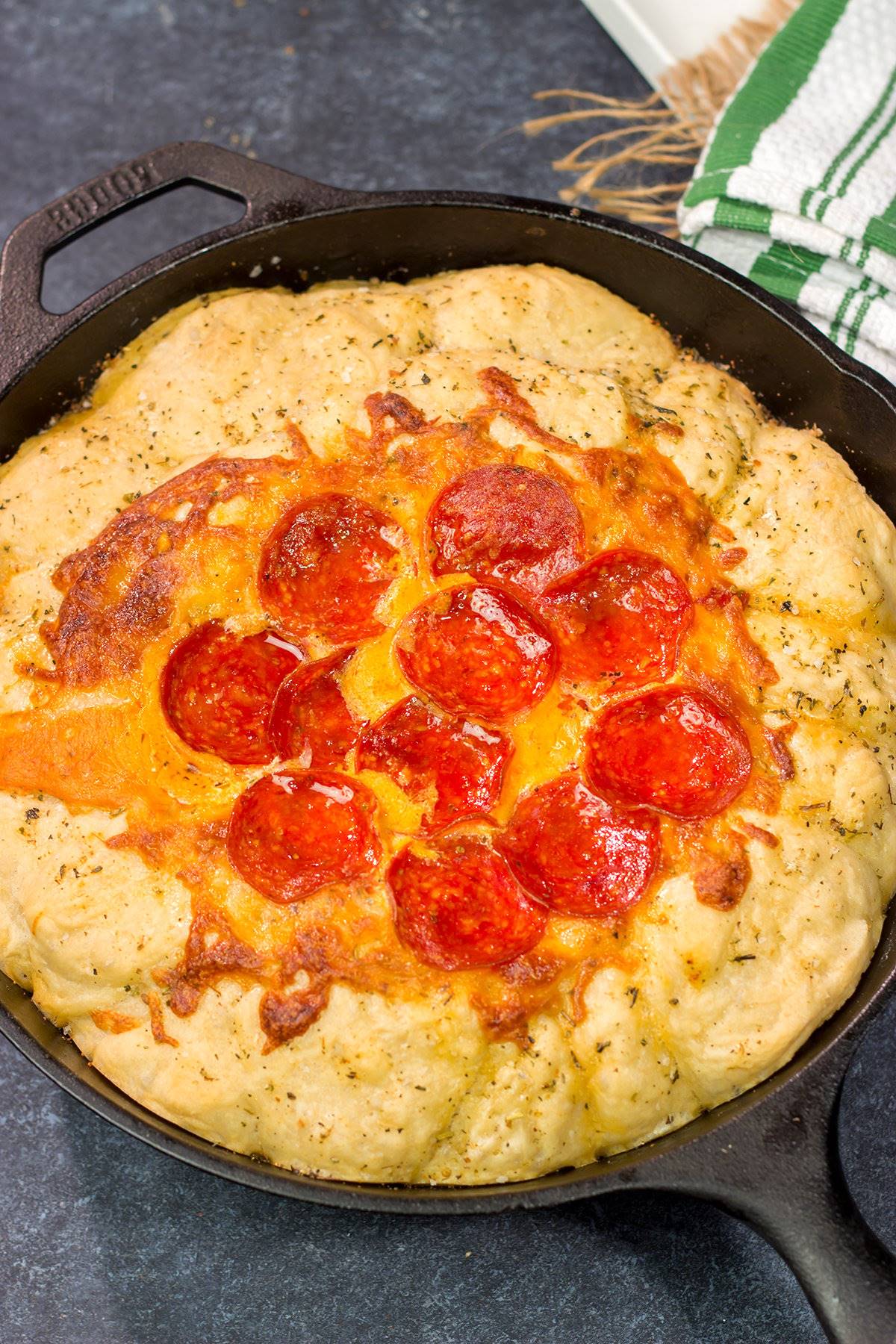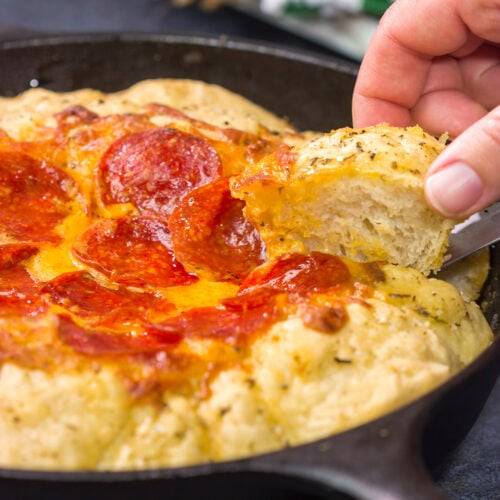 Skillet Pepperoni Pizza Dip
This Skillet Pepperoni Pizza Dip features all of the classic pizza flavors…in dip form. It's a great game day appetizer to share with friends!
5 from 7 votes
Prep Time: 20 minutes minutes
Cook Time: 30 minutes minutes
Rising Time: 45 minutes minutes
Total Time: 1 hour hour 35 minutes minutes
Servings: 8 servings
Calories: 416 kcal
Ingredients
For the Pizza Dough
24
oz.
store-bought or homemade
¼
cup
⅓
cup
1½
Tbsp
1
Tbsp
Italian seasonings
2
tsp
For the Pepperoni Pizza Dip
4
oz.
softened
¼
cup
½
tsp
½
tsp
¼
tsp
⅔
cup
2
oz.
pepperoni
divided
½
cup
Instructions
For the Pizza Dough
Divide the pizza dough into 16 equal pieces.
Using a circular motion, roll each piece of dough between countertop and palm of your hand until dough ball becomes tight.
Place a small bowl upside-down in the center of a 9" cast iron skillet. (Tip #1: The goal should be to create a 3" gap between bowl and sides of the pan. Tip #2: If you don't have a cast iron skillet, you can use an oven-safe baking dish or deep pie plate instead.)
Using a large mixing bowl, whisk together olive oil, Parmesan cheese, garlic, Italian seasonings and salt. Add dough balls and toss until well coated.
Place dough balls in a ring around the edge of the skillet.
Cover pan lightly with plastic wrap and place in a warm location for 45 minutes, or until dough has approximately doubled in size. (Tip: For a warm location, I put the pan in my oven with just the oven light on.)
For the Pepperoni Pizza Dip
Preheat oven to 350°F.
Once dough has risen, remove the bowl in the center of the skillet.
Using a medium bowl, combine cream cheese, sour cream, oregano, garlic and salt. Spread this mixture evenly into the center of the skillet.
Spread pizza sauce evenly on top of cream cheese mixture.
Chop half of the pepperoni and sprinkle evenly on top of pizza sauce.
Bake for 10 minutes.
Remove skillet from oven and sprinkle mozzarella cheese on top of the dip. Layer remaining pepperoni slices on top.
Continue baking for 20-25 more minutes, or until tops of pizza dough are light golden brown.
Serve hot. (Tip: Use a knife to gently cut apart the pieces of pizza dough before serving.)