It's the best thing I've ever heard': Comedian Nate Bargatze shares his favorite Boo Weekley story!
Comedian Nate Bargatze is not only at the top of his game in the world of comedy, he's also fresh off his first appearance at the AT&T Pebble Beach Pro-Am, where he played alongside partner Webb Simpson and groupmates Kevin Streelman and Larry Fitzgerald.
Bargatze covered a number of topics with hosts Colt Knost and Drew Stoltz during his recent Subpar appearance, but one of his most entertaining moments was his re-telling of a famous Boo Weekley story involving an orangutan.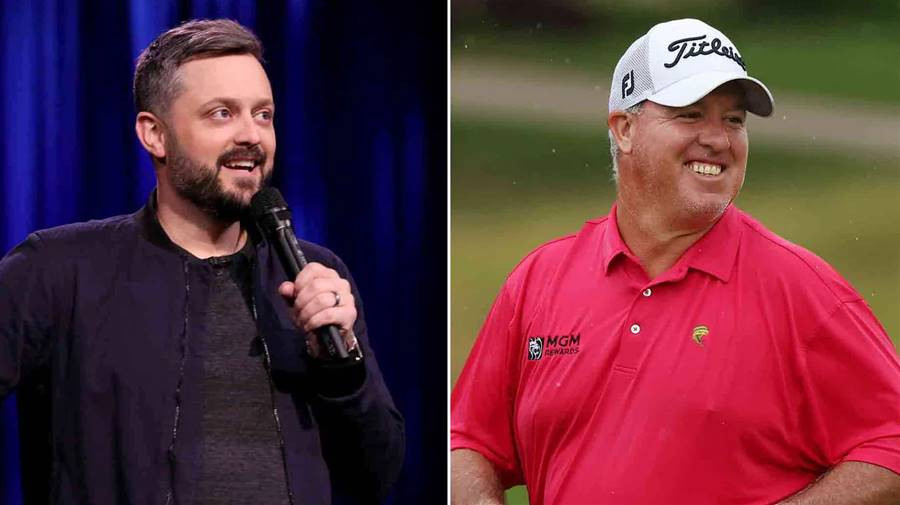 "I don't know [Boo Weekley] at all," Bargatze said. "I've actually told his story for him, but when he fought an orangutan — if you don't know the story, he goes to a fair when he's 15. He's like, super southern, right? I've never met him. Big dude. He goes to a fair and they have the thing where you pay $5, win $50 if you can last fighting this orangutan."
"Worth it," Stoltz quipped.
"So he gets in there and I just picture the orangutan, just like, arms down, and he said he's circling him," Bargatze continued. "And the orangutan just keeps moving. And the orangutan has no emotion in this at all. And he said he's gonna fake right and was gonna punch left, so he faked right, and then just woke up in his buddy's truck. The orangutan just laid him out.
"I mean, it's like a dream of a story to have as a comedian. It's the best thing I've ever heard. It's the greatest story ever."