'AGT' Star Evie Clair Posts Touching Letter to Nightbirde After Losing Her Father to Cancer
Simon Cowell's Golden Buzzer Nightbirde has left America's Got Talent due to her ongoing cancer battle. Season 12 contestant Evie Clair posted a touching tribute to Nightbirde after she announced the news. Evie lost her father to cancer while she was competing on the show in 2017.
"Since my audition, my health has taken a turn for the worse and the fight with cancer is demanding all of my energy and attention," Nightbirde wrote on Instagram. "I am so sad to announce that I won't be able to continue forward on this season of AGT. Life doesn't always give breaks to those that deserve it—but we knew that already."
Nightbirde's exit from AGT sparked Evie to post a heartfelt letter on her website. Evie was just 13 years old when she auditioned for AGT. She held back tears when Cowell asked her why she was auditioning. The singer came to perform for her father, Amos, who was diagnosed with stage 4 colon cancer in 2016. He had a 5% chance of survival.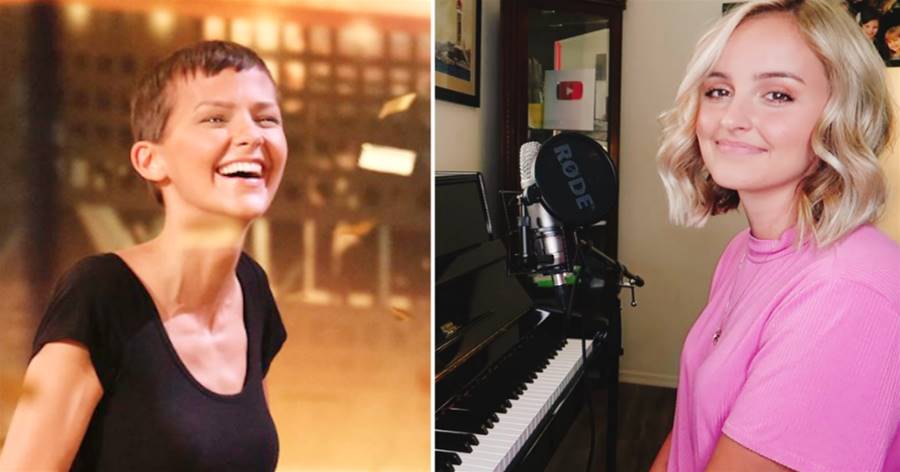 "Four years ago I found myself on America's Got Talent, my dad was dying of cancer, and I felt like giving up on a lot more than just the show," Evie wrote in her letter. "The pain was the only thing that outweighed the fear. It hurt so badly to watch him fight so hard, just to see him lose a little more each day. It was enough to make even the biggest stage in the world feel meaningless. I can't congratulate you enough for having pushed so far."
Amos attended Evie's AGT audition and shed tears during her performance of "Arms" by Christina Perri. He passed away just as Evie was voted through to the finale. At the finale, she performed Louis Armstrong's "What a Wonderful World," her dad's favorite song.
"I think we both know that all of this is so much more than a talent show," Evie continues in her letter. "The music is so much more than the hits. The pain is so much more than a story.  There's a grand purpose to so much pain, and my dad knew it. He always told me, 'men are that they might have joy.' In other words, 'You can't wait until life isn't hard anymore before you decide to be happy.'"