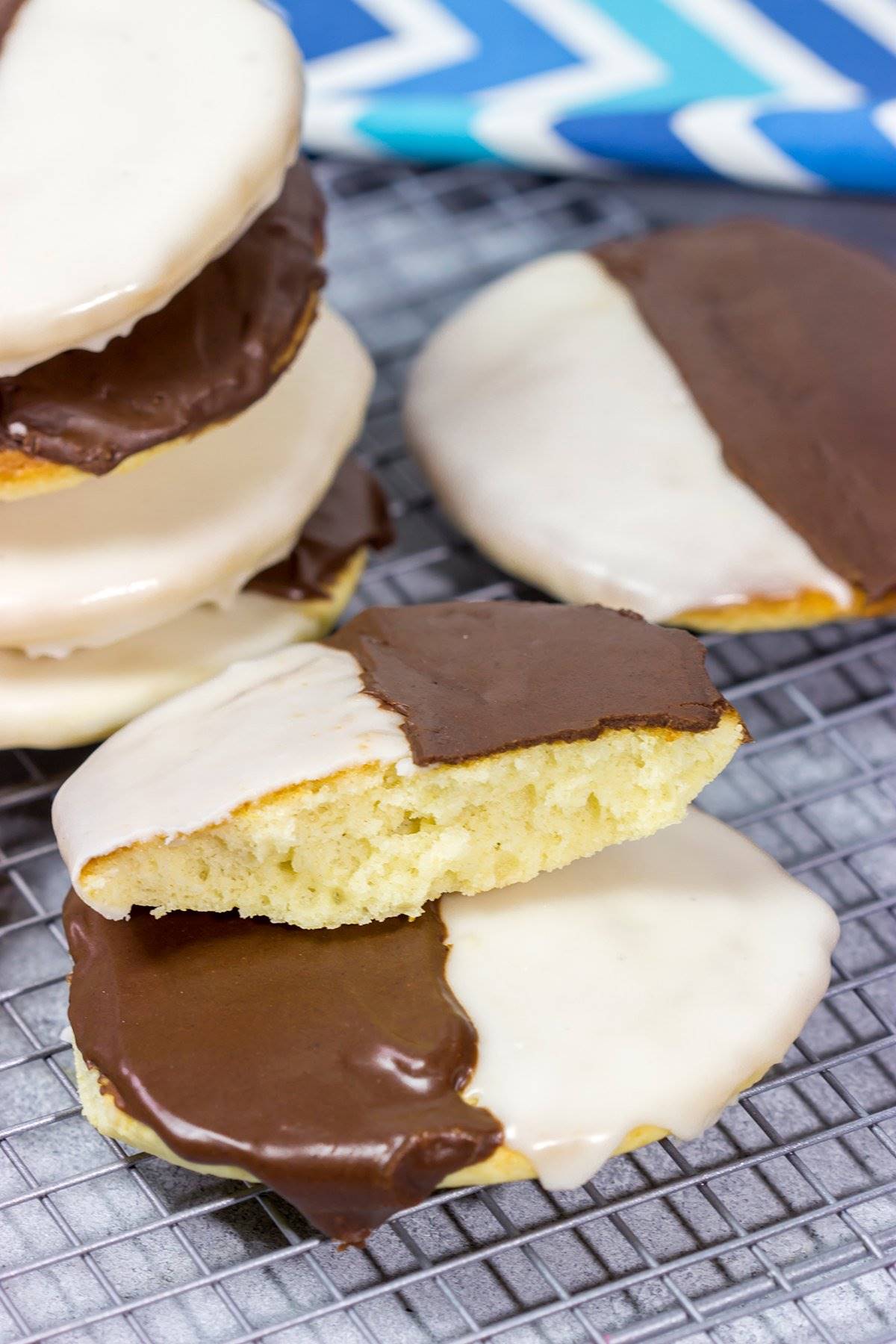 If you're looking for a unique and delicious cookie to make at home, then put these Black and White Cookies on the list! We love 'em here in our house, and a tray of these cookies is always met with a big smile. Happy baking!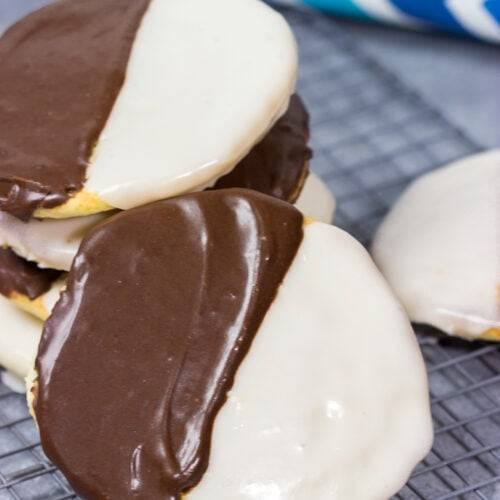 Black and White Cookies
Part chocolate-part vanilla. Part cake-part cookie. Black and White Cookies are an iconic treat in the New York City area…and they're delicious!
4.67 from 6 votes
Prep Time: 45 minutes minutes
Cook Time: 30 minutes minutes
Total Time: 1 hour hour 15 minutes minutes
Servings: 12 cookies
Calories: 387 kcal
Ingredients
For the Cookies
2
cups
1
tsp
¼
tsp
½
tsp
⅓
cup
⅓
cup
2
tsp
1
tsp
½
cup
room temperature
¾
cup
+ 2 Tbsp granulated sugar
2
room temperature
For the Glaze
3¾
cups
confectioner's sugar
2½
Tbsp
light corn syrup
1 ½
tsp
5-8
Tbsp
hot water
4
oz.
semisweet chocolate
melted
¼
cup
Instructions
For the Cookies
Preheat oven to 375°F.
Line two sheet pans with parchment paper; set pans aside.
Using a large bowl, add flour, baking powder, baking soda and salt; stir until well combined; set bowl aside.
In a separate bowl, whisk together sour cream, milk, vanilla extract and lemon zest; set bowl aside.
Using a countertop mixer, cream together the butter and sugar until light and fluffy (~3-4 minutes on medium speed).
Add eggs; mix on low speed until well combined.
Add ½ of the flour mixture; mix on low speed until well combined.
Add ½ of the sour cream mixture; mix on low speed until well combined.
Repeat with the remaining flour and sour cream mixtures. (Note: Don't forget to scrape the sides of the bowl with a spatula.)
Using an ice cream scoop (or a ¼-cup measure), drop ¼ cup scoops of batter onto the prepared baking pans. (Note: Leave 2" of space between scoops. I put 6 scoops on each pan.)
Bake for 13-15 minutes, or until centers of cookies are springy to the touch.
Let cookies cool on pans for 15 minutes and then transfer cookies to a cooling rack until completely cool.
For the Glaze
Using a medium bowl, add confectioner's sugar, corn syrup, vanilla extract and 5 Tbsp of hot water; whisk together until well combined. If needed, continue adding hot water 1 Tbsp at a time until the glaze is thick but spreadable. (Note: Err on the side of too thick rather than too thin!)
Flip each cookie over and use an offset spatula to spread glaze over half of the flat side. Place cookies back on cooling rack. (Note: You will have leftover glaze.)
Stir the melted chocolate into the remaining glaze. Add cocoa powder and stir until glaze is smooth. Add enough hot water (2-3 Tbsp) to create a thick, but spreadable glaze.
Using an offset spatula, spread the chocolate glaze evenly on the other half of the cookies.
Let glaze set for 1-2 hours before serving.
Notes
Recipe from The New York Times.