Ever since Tom Cruise stepped out at a baseball game last weekend, fans have speculated whether the round-faced, chubby-cheeked look he revealed was the result of aging or a recent assignation with a syringe.
They couldn't figure out if the 59-year-old "Mission Impossible" star had been raiding the refrigerator — or opted for the risky business of dermal fillers to plump up his features.
Cruise's apparently changed mug contrasts sharply with the preppy image he usually presents, complete with sculpted cheekbones and dazzling white teeth.
"What's up with the bloated chipmunk cheeks?" one Twitter critic commented. "What he do to his face, same doctor as Wayne Newton?" another social media watchdog sniped.
In a similar vein, just a couple of days earlier, Madonna surprised her followers by ditching the flawless appearance she curates on Instagram. Instead, the diva looked slightly closer to her real age of 63. Her Madgesty happily posed for candid snaps without filters or other photo trickery.
"Real life vs instagram 😳," one person posted along side-by-side photos of the singer, while another chimed in: "Madonna, Reality Vs the pic she posts of herself on Insta."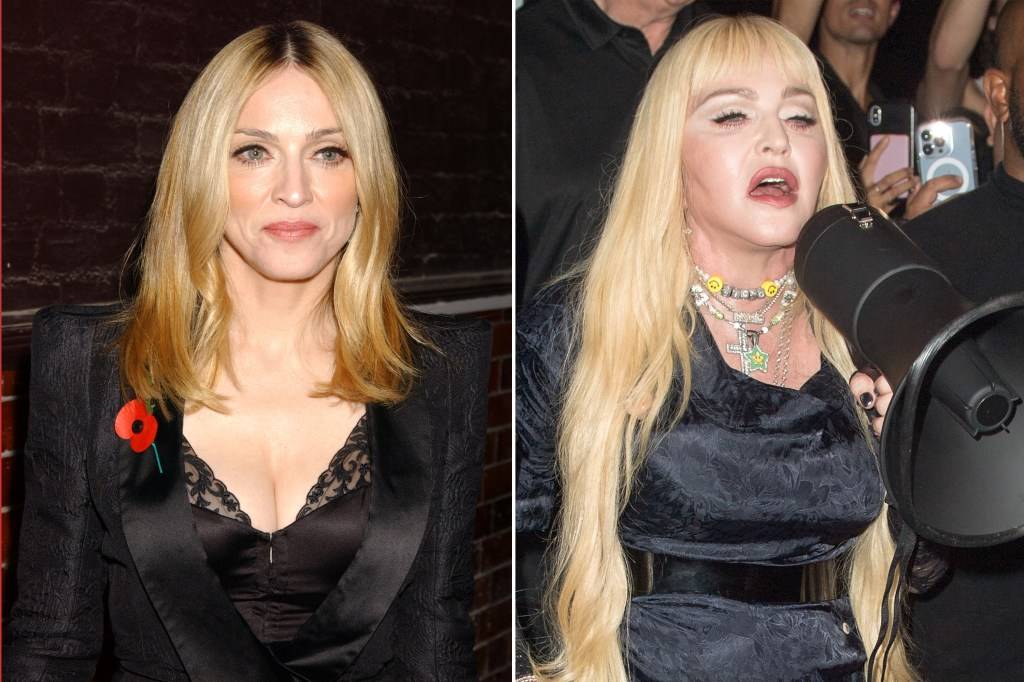 Heck, at certain angles, you could almost see the makings of a double chin.
It all goes to show that, whether purposefully or not, many Hollywood stars have dramatically changed their appearance over the years. Here, The Post puts eight other celebrities — whose chameleon looks have long been subject to debate — under the microscope.
TORI SPELLING
With her mop of blond hair, trademark big eyes and beaming smile, the Californian was the epitome of the all-American girl when she shot to fame in the '90s teen drama "Beverly Hills, 90210," helmed by her dad, megaproducer Aaron Spelling. She has since spoken about getting a nose job and breast augmentation while vehemently denying any more recent work. This year, sporting impossibly long hair extensions during a glamorous photo shoot that channeled Kim or Khloé Kardashian, the 48-year-old looked sleek-cheeked and markedly younger.
"Wow Tori doesn't look like her any more," one fan lamented on Spelling's Instagram post celebrating the wrap of MTV's "Messyness" reality series with Nicole "Snooki" Polizzi. "Kardashians surgeon? 🤷‍♀️" another person piped up.
"It's all contouring," Spelling later insisted, crediting her "amazing" makeup artist.