What is dulce de leche?
Dulce de leche is a popular Latin American treat that is traditionally made by heating milk and sugar over low heat for several hours. The result is a spreadable "sauce" that is very reminiscent of caramel. It is often used to top other sweet treats…or you can just eat it with a spoon. (I mean, not that I know anything about this…)
I made these Snickerdoodle Donut Holes just slightly larger than a traditional donut hole so that they would be easier to dip. They are more like 2-bite donut holes, but they work well for dipping into dulce de leche!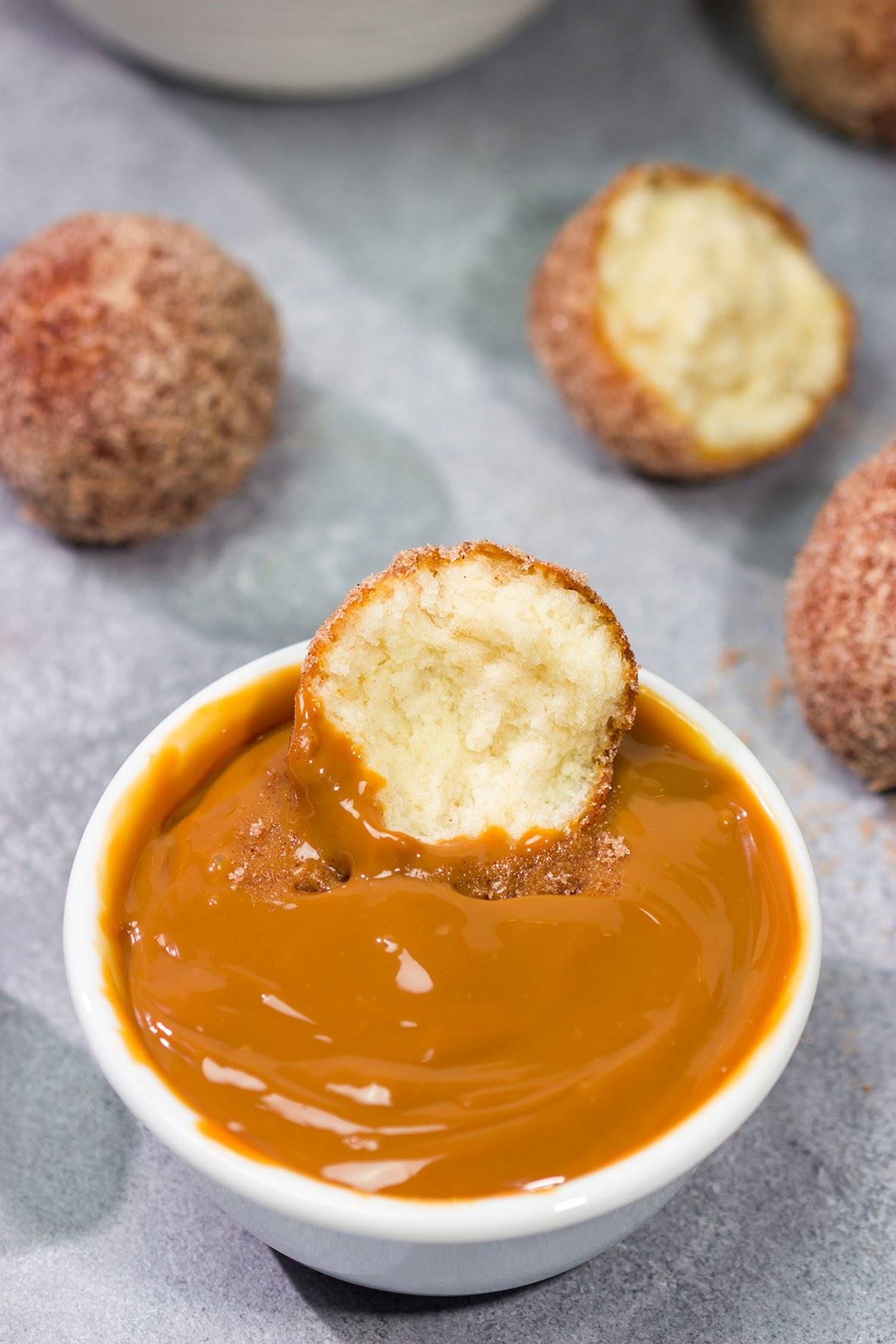 If you're looking for a fantastic dessert idea, then put these donut holes on the list! In truth, these donut holes don't even need the dulce de leche sauce…but the dulce de leche does take this to a whole new level. If you're not into dulce de leche, you could certainly serve these with instead. Either way, I can promise you these will be a hit! Enjoy!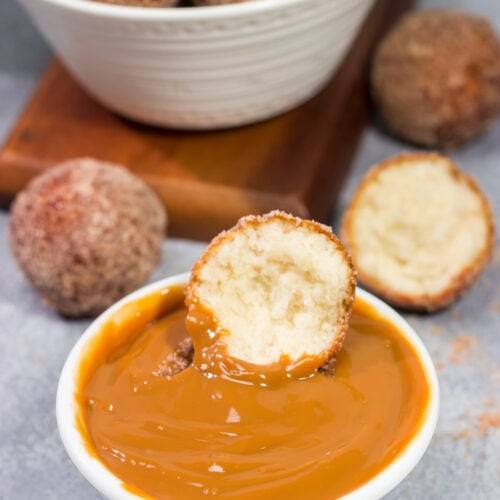 Snickerdoodle Donut Holes with Dulce de Leche Dipping Sauce
Served with homemade dulce de leche for dipping, these Snickerdoodle Donut Holes are packed with cinnamon sugar flavor!
5 from 4 votes
Prep Time: 15 minutes minutes
Cook Time: 8 hours hours 15 minutes minutes
Total Time: 8 hours hours 30 minutes minutes
Servings: 20 donut holes
Calories: 106 kcal
Ingredients
For Dulce de Leche Dipping Sauce
1
14-oz. can sweetened condensed milk
For the Donut Holes
2
cups
plus more as needed
¼
cup
1
Tbsp
½
tsp
5
Tbsp
cold
¾
cup
vegetable or peanut oil
for frying
For Rolling
½
cup
2
tsp
Instructions
For Dulce de Leche Dipping Sauce
Place unopened can of sweetened condensed milk on its side in a slow cooker. Add enough water to cover can by ~2".
Cook on LOW temperature for 8 hours.
Remove can from water and let cool before opening. (Note: To cool the can quickly, submerge it in cold water for 10 minutes.)
Open can and transfer Dulce de Leche into a bowl for dipping. (see note)
For the Donut Holes
Using a large bowl, combine flour, sugar, baking powder and salt.
Cut the butter into ½" cubes. Using a pastry cutter (or two table knives), cut the butter into the dry ingredients until the mixture resembles coarse crumbs.
Add milk and stir until well combined.
Turn dough out onto a well-floured work surface. Knead for 1-2 minutes or until dough comes together into a ball. (Note: If needed, add another 1-2 Tbsp of flour at this stage.)
Using a large Dutch oven or a deep fryer, add enough vegetable oil to fill bottom 3" of the pot. Heat oil to 350°F.
Pinch off ~1½ Tbsp of dough and gently roll into a ball; set ball aside. Repeat process until all dough has been rolled into balls.
Before you start frying the donut holes, combine the sugar and cinnamon (for rolling) in a shallow bowl; set bowl aside.
Drop several dough balls into oil. Fry, flipping occasionally, until golden brown (~2-3 minutes total). Transfer donut holes to a paper-towel or brown paper bag lined plate to drain. Repeat process with remaining dough balls.
While donut holes are still warm, roll in the cinnamon-sugar mixture.
Notes
The longer you cook the condensed milk, the thicker the dulce de leche becomes. If it is too thick for dipping, just stir in a small amount of milk!