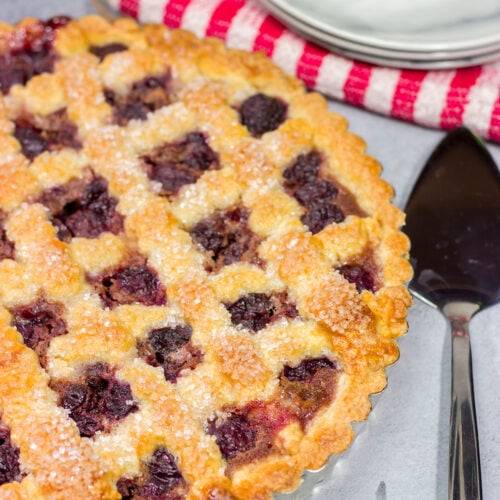 Sour Cherry Crostata
Featuring a sweetened crust that is a cross between shortbread cookie and pie dough, this Sour Cherry Crostata is a delicious dessert for a warm summer day!
5 from 5 votes
Prep Time: 35 minutes minutes
Cook Time: 40 minutes minutes
Refrigeration Time: 1 hour hour
Total Time: 2 hours hours 15 minutes minutes
Servings: 12 servings
Calories: 304 kcal
Ingredients
For the Dough
2⅔
cups
½
cup
1½
tsp
½
tsp
grated zest of 1 lemon
¾
cup
cold
1
1
large egg yolk
1½
tsp
For the Filling
2
cups
pitted sour cherries
½
cup
2
Tbsp
1
tsp
ground cardamom
½
tsp
For the Topping
1
course sugar
such as sparkling or turbinado, for sprinkling on top
Instructions
For the Dough
Using a food processor, add flour, sugar, baking powder, salt and lemon zest; pulse until well combined.
Cut butter into small cubes and add to the food processor; pulse until a crumbly mixture forms. Transfer mixture into a large mixing bowl.
Using a small bowl, whisk together the egg, additional egg yolk and vanilla. Pour mixture into the bowl with the dry ingredients; stir until dough comes together in a ball. (Note: If dough seems dry, add 1-2 teaspoons of cold water.)
Divide dough into 2 equal portions and shape each piece into a disc. Wrap each piece separately in plastic wrap; refrigerate for at least 1 hour. (Note: Dough can be made the day before and refrigerated overnight.)
For the Filling
Preheat oven to 375°F.
Using a large bowl, add cherries, sugar, flour, cinnamon and cardamom; toss until well combined. Set filling aside.
Working on a well-floured surface, roll one piece of dough into an 11" circle.
Transfer pie dough into a 9" tart pan with removeable bottom. Gently but firmly press dough into bottom and sides of pan; leave ~½" of overhang on all sides. Fold overhang over itself against the inner sides of the pan.
Spread cherry filling evenly into the pan; set pan aside.
Working on a well-floured surface, roll remaining piece of dough into a 9" circle.
Using a pastry wheel or knife, cut dough into (10) ½" strips.
Lay half of the strips on top of the filling, leaving ~1½" in between each strip. Turn the pan a quarter-turn and repeat with the remaining strips to create a lattice pattern. (Note: If desired, feel free to weave the strips together!) Pinch edge of each strip against the dough around the sides of the pan to seal. (Note: You will likely have a little bit of pie dough leftover. Just sprinkle it with cinnamon and sugar and bake it for a few minutes for a quick and easy snack!)
For the Topping
Using a small bowl, whisk the egg together with 1 tablespoon of water. Brush the egg wash on top of the dough. Sprinkle the tops of the dough generously with course sugar.
Bake for 40-45 minutes, or until dough is golden brown in color.
Let cool in tart pan for 10 minutes.
Remove the outer ring and let cool until warm before serving.