Comedian Nate Bargatze describes what he does for a living as "saying dumb stuff in front of large groups." And he's very good at it.
On this bonus episode of The Last Laugh podcast, Bargatze talks about making the jump from Netflix to Amazon for his latest special Hello World, which premieres on Jan. 31 and finds him grappling with the everyday challenges of parenthood and middle age as only he can. We also get into the pros and cons of being a "clean" comedian, the one joke that caused a sex worker to call him out for being insensitive, and his biggest comedy goals moving forward.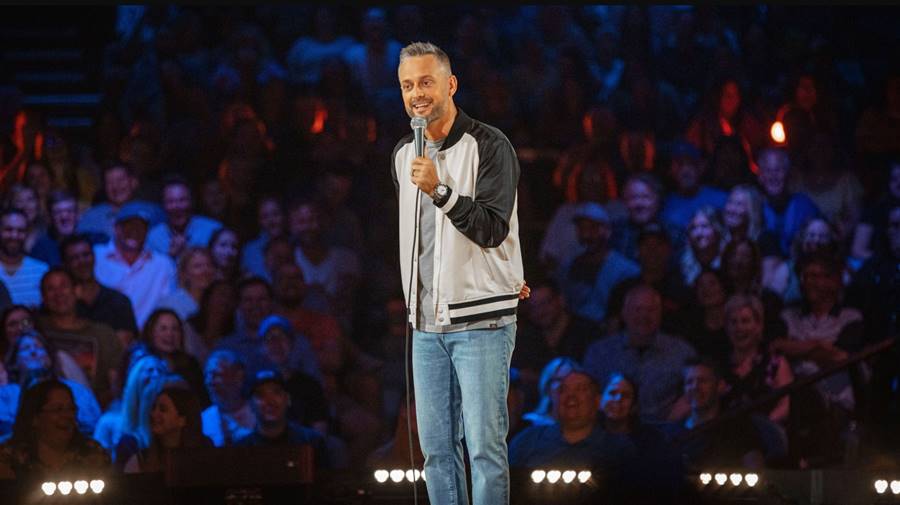 When I point out to Bargatze that he's the first three-time guest on The Last Laugh, he replies, "I love that. Record-breaking, that's all I'm going for." He's just returned home to Nashville after flying to New York to appear on The Tonight Show, where he has now officially graduated from doing five-minute stand-up spots to sitting on the couch next to host Jimmy Fallon.
"You basically just go do your stand-up, but you sit down," Bargatze says, explaining that being a "panel" guest allows for a more "conversational" style that suits his low-key comedy persona.
Bargatze, who hit his 20-year anniversary as a comedian this past year, has slowly risen the ranks of the comedy world to become one of the most objectively successful stand-up comics around—all without the benefit of an eponymous sitcom, a dream he admits he's still chasing after many false starts.
It was getting two consecutive hour-long specials on Netflix—2019's The Tennessee Kid and 2021's The Greatest Average American—that he says "changed" his life forever. But for Hello World, Bargatze jumped at the chance to be one of the first comics in Amazon Prime Video's new push into a comedy-special landscape that has been dominated by Netflix for almost a decade. He's hoping it's a savvy career move to reach a new audience, but admits he could always be wrong.
As for that self-deprecating job description he delivers on stage, Bargatze says, "There's more to it than that," before joking that if he was jogging and someone came up to him and asked what he did for a living, "saying dumb stuff in front of large groups" would be the simplest answer.
But doesn't he have to be at least kind of smart to make his dumb thoughts funny to millions of people? "I feel like awareness plays a lot into it," he answers. "You've got to be super aware and you do have to pick up on stuff. You've got to notice things more than most people will notice things."
When Bargatze takes note of his own inability to do something, like the bit in his new special about how hard it can be to turn off the lights in a hotel room, he generally feels confident that audiences will be able to relate. "A lot of people think they might be the only dumb ones that have done something," he says. "But then, once I get to say it in a large group, and you hear everybody laugh, you realize a lot of people have done this."
And yet, there have been times when he delivered an observational joke that he thought would be relatable but falls flat with the crowd. "When people don't relate to it and then they're just laughing at you, it can be too much," Bargatze says. "You're like, all right, that's too dumb. Either they don't believe it or they feel sorry for you. So there's a balance you have to find. You want to be just the right amount of dumb."
Listen to the episode now and subscribe to 'The Last Laugh' on Apple Podcasts, Spotify, Google, Stitcher, Amazon Music, or wherever you get your podcasts, and be the first to hear new episodes when they are released every Tuesday.