Blake Shelton & Wife Gwen Stefani Share The Stage For Loving Holiday Duet During Christmas In Rockefeller Center Special
Blake Shelton and  Gwen Stefani joined forces during NBC's 90th Annual Christmas in Rockefeller Center special on Wednesday evening (Nov. 30) in New York City.
The married couple delivered a loving performance of their fan-favorite holiday duet, "You Make It Feel Like Christmas," a track the pair co-wrote together that appears on Stefani's first full-length holiday album of the same name and was released in 2017.
Stefani donned a strapless emerald green dress while Shelton opted for a red and black flannel with jeans while performing the beloved holiday duet.
"I want to thank you baby / You make it feel like Christmas," The Voice coaches sing in perfect harmony on the chorus of the tune during the 90th annual tree lighting ceremony.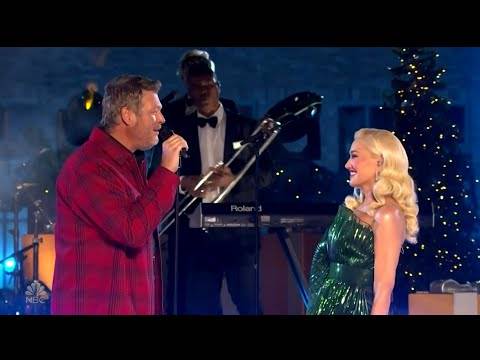 In addition to performing together, Shelton and Stefani also took to the Rockefeller Center rooftop for solo performances, including "Up On The House Top (Ho Ho Ho)" as well as "Under The Christmas Lights" and "Santa Claus Is Coming To Town," respectively.
"You Make It Feel Like Christmas" is one of four collaborations that Shelton and Stefani have together. The other three collaborations are "Go Ahead And Break My Heart," as well as their two chart-topping hits "Nobody But You" and "Happy Anywhere."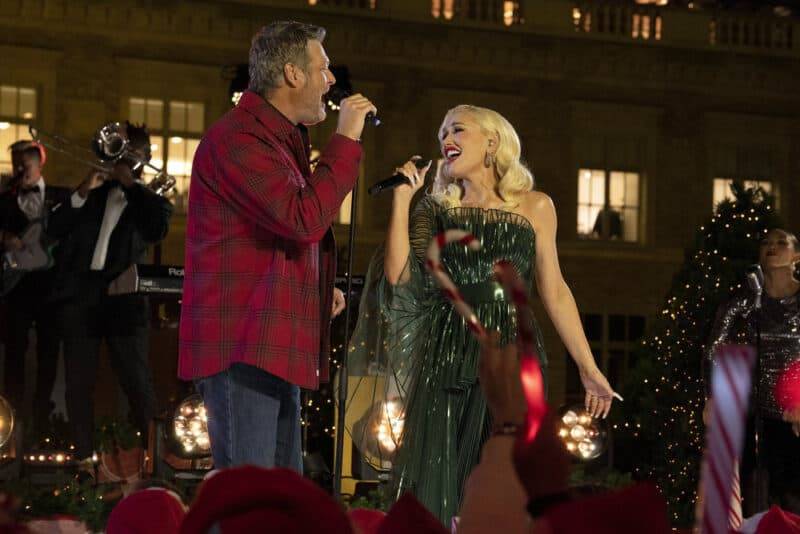 Blake Shelton, Gwen Stefani; Photos Courtesy of NBC/Christmas In Rockefeller CenterAhead of their performance on the annual holiday special, Shelton and Stefani told US Weekly about their favorite holiday tradition.
"Gwen and I, our tradition has become cooking during Christmas — and not just like your normal, typical [dishes]," Shelton told the outlet. "But we always challenge ourselves and try to come up with a different, weird, complicated, difficult thing to cook every year. It started one year [when] she wanted to do a beef Wellington, which is not easy, by the way."
The "No Body" singer went on to explain that he and his wife, Stefani, always try "something weird and new" each and every year. 
"Gwen's family, there's a lot of Italian blood in her family," Shelton continued to tell the outlet. "And so there's tons of pastas and there's a reason that I have a chin like a stork the last five years. It's because I'm hanging out with the Stefanis now."
Shelton then admitted that "singing with Gwen is way harder than cooking with her." He continued, "Cooking is easy for us because neither one of us really know what we're doing, and all we do is laugh the whole time. With music, we actually take [it] serious."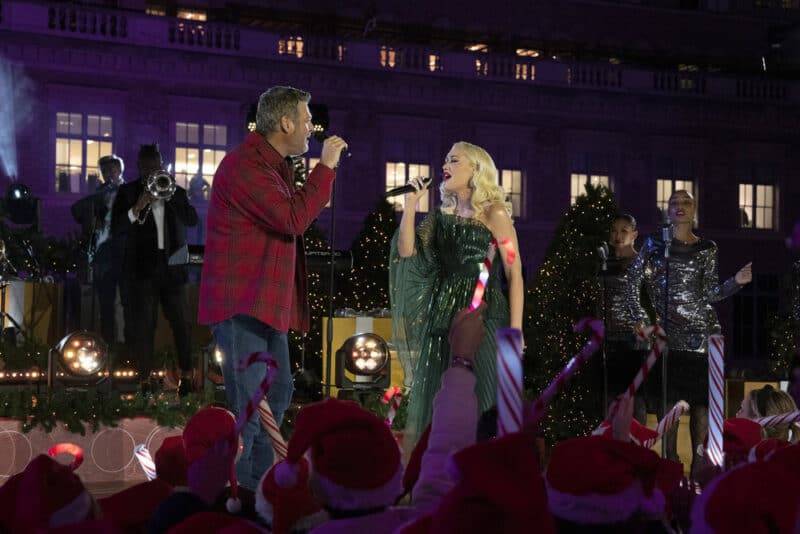 Blake Shelton, Gwen Stefani; Photos Courtesy of NBC/Christmas In Rockefeller Center2022 Rockefeller Center Tree Lighting also featured performances from Jimmie Allen, Andrea Bocelli, Matteo Bocelli, Virginia Bocelli, Brett Eldredge, David Foster and Katharine McPhee, Mickey Guyton, Alicia Keys, Amy Poehler, Radio City Rockettes, Maya Rudolph, the Muppets of Sesame Street, Dan + Shay, The Shindellas, Louis York, and more.
In addition to performances, the show also featured the annual lighting of the giant Christmas tree in New York City's famed Rockefeller Center, which was lit with 50,000 LED lights for the first time this season.
Co-hosted by TODAY show hosts Savannah Guthrie, Hoda Kotb and Craig Melvin, NBC's 90th Annual Christmas in Rockefeller Center aired on Wednesday (Nov. 30) at 8/7c on NBC.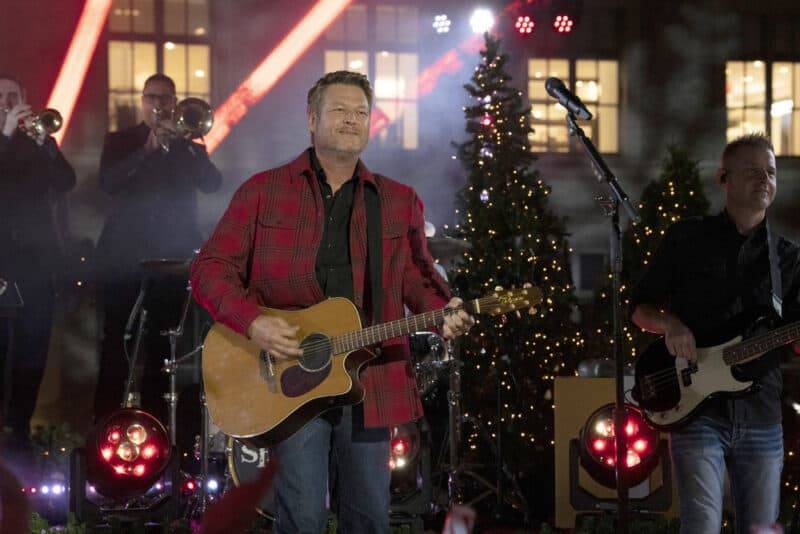 Blake Shelton; Photos Courtesy of NBC/Christmas In Rockefeller CenterAdditionally, Shelton recently released the super deluxe edition of his holiday album, Cheers, It's Christmas. The project, dubbed Cheers, It's Christmas (Super Deluxe), features new versions of classic Christmas tracks "Up On The House Top" and "Holly Jolly Christmas," as well as "Cheer For The Elves," a previously released original song from Gwen Stefani.
"During the holidays I always celebrate traditions and add new things, so cheers to some new music," Shelton said of the project. "After all, what is Christmas without it. I just want to thank everyone for including my music in your festive playlists all these years. It really is 'the most wonderful time of the year.'"
Cheers, It's Christmas was first released in October of 2012. The project includes several collaborations, including "There's A New Kid In Town" with former The Voice coach Kelly Clarkson, "Oklahoma Christmas" featuring Reba McEntire, "Home" with Michael Bublé and "Time For Me To Come Home" with Shelton's very own mother, Dorothy.
The album also includes Christmas classics such as "Jingle Bell Rock," "White Christmas," "Let It Snow, Let It Snow, Let It Snow" and "Winter Wonderland."
Additionally, Shelton will soon hit the road on his 18-date winter 2023 tour with special guests Carly Pearce and Jackson Dean.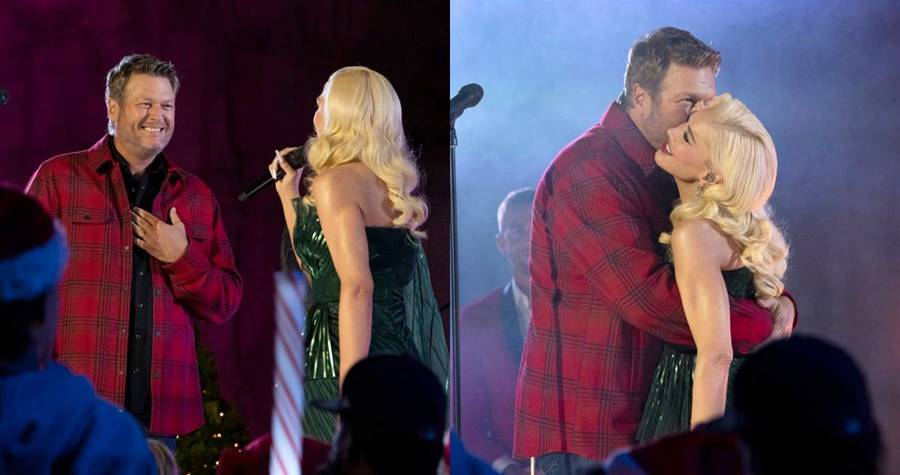 "We're throwing one hell of a party in 2023… the #BackToTheHonkyTonk Tour with @carlypearce and @thejacksondean is coming to a city near you!!! It's going to be big," Shelton wrote. "Tickets on sale September 16th and September 23rd – visit blakeshelton.com for more info. See y'all out there!!!"