'AGT': Simon Cowell requests encore from blind Golden Buzzer singer Putri Ariani
Showbiz dreams come true on but personal triumphs are also won.
Dancer won over the hearts of judges , , and during the second round of auditions Tuesday night with his vivacious footwork, which saw the 10-year-old deftly alternate between limber leaps and splits.
The audition was also an emotional moment for Garcia, who revealed he gets "a little bit bullied in school."
"A lot of people don't really know what it is to be a male dancer, and I love it so much," Garcia said. "I'm never going to let anyone stop that."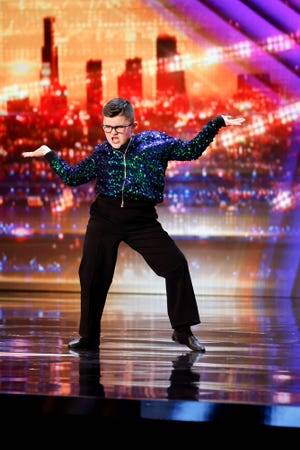 Vergara was quick to offer the young dancer some words of encouragement.
"They bully you because they envy you," said Vergara, calling Garcia's performance "spectacular." "They can't do what you can do. They're afraid of you, so don't pay attention to them."
AGT winner Grimm hospitalized, sedated
Garcia proved his schoolyard haters wrong, earning four yeses from the judges.
"You have natural stage presence, and that's something you can't fake," Cowell said. "If those bullies start again, you tell them me, Terry (Crews), Howie, Heidi and Sofía are coming down to sort them out."
Here's what else happened on Tuesday's episode.
Trap choir Sainted wows judges with unexpected sound
Sainted, a 26-member choir specializing in trap music, brought heavenly swag to the "AGT" stage. The North Carolina vocal group performed that reimagined dance hits such as "Bad and Boujee" by and "Show Me Love" by Robin S.
The choir's unique style floored the judges and earned them a standing ovation, with Mandel telling the group that it "should be on the big stage at Coachella."
"You leave us shook," Mandel said. "It's young. It's exciting. It's not what you think choir is. … I would see every concert you guys play at."
For Cowell, the group's audition was an act of divine intervention.
"I loved everything about this," Cowell said. "I have to thank you. I have to thank God because he brought you here."
Sainted managed to score a heaven-sent victory in the end, with the choir earning four yeses.
Ramadhani Brothers shock Howie Mandel with 'dangerous' balancing act
The Ramadhani Brothers don't lose their heads under pressure.
The sibling pair from Tanzania stunned the judges with their . One brother balanced the other's full body weight on his head while walking up and down a staircase and later climbing a ladder.
"That is the scariest, most dangerous act I have ever seen on 'America's Got Talent,'" Mandel said. "I'm speechless."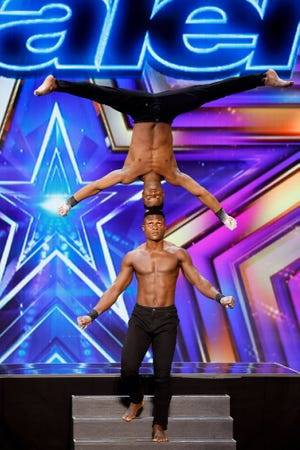 Cowell gushed that the brothers' act was one of the best he's witnessed on the show.
"It was from start to finish about as close to perfection I've seen over the years," Cowell said. "You are absolutely brilliant."
The Ramadhani Brothers struck a perfect balance for the judges, as the duo scored four yeses.
Ray Wold stuns judges with 'hot mess' knife-throwing act
Ray Wold has put mother-son bonding on a knife's edge.
The stunt artist was joined by his 85-year-old mother for a daring routine in which Wold his mother was standing on.
Unfortunately, Mandel couldn't take the heat of Wold's outlandish performance.
"I'm all for family, but if you're going to spend quality time with your mother, you shouldn't throw knives at her," Mandel said. "It's just the way I was brought up."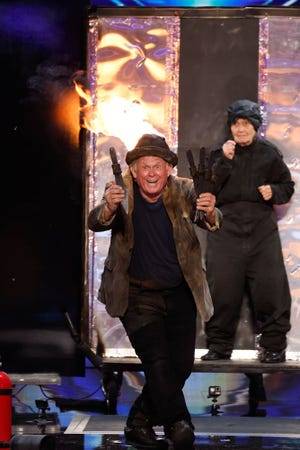 But Mandel's fellow judges disagreed with his hot take on Wold.
"This was such a hot mess," Klum said jokingly. "I loved it."
Cowell echoed Klum's enthusiasm. "I loved this act. How can you not?" he said. "This shows you are never too old to chase your dreams."
Although Wold and his mother failed to earn a yes vote from Mandel ("For your own safety, I'm going to say no"), the pair advanced to the next round of the competition with a trio of yeses from Cowell, Klum and Vergara.
Singer Putri Ariani nabs Golden Buzzer with angelic performances
Indonesian singer-songwriter Putri Ariani proved there's always room for an encore.
The 17-year-old vocalist, who is blind, got behind the piano for . Impressed by her singing prowess, Cowell requested that Ariani play another tune, prompting her to perform a cover of "Sorry Seems to Be the Hardest Word."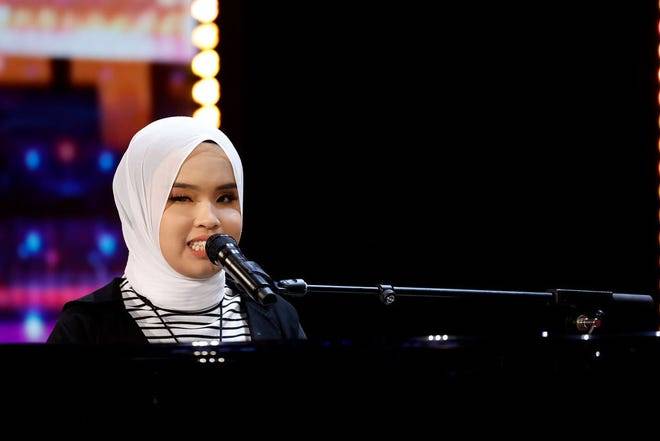 Ariani brought the house down with her performances, with Vergara calling the teen singer an "angel."
"A lot of people don't believe in angels, and I think one just landed on our stage," Mandel added. "You're a superstar."
Cowell was blown away by Ariani's musical flair and charisma.
"You've got an amazing, distinctive voice," Cowell said. "You have a kind of glow about you."
The British entertainment mogul was so moved by Ariani's audition that he hit his Golden Buzzer button, sending Ariani straight to the live shows. "She's brilliant," he said.