Kelly Clarkson's reunion with ex-husband's family has fans so excited
's marriage may not have had a happy ending, but she remains close to her former mother-in-law, - and they're about to get a whole lot closer.
One year after from the country music star's stepson, Brandon Blackstock, was finalized, the star is teaming up with .
It was announced last week that Reba would be joining the singing show as a Mega Mentor, while Kelly is on the panel of judges. 
WATCH: Kelly Clarkson and Brandon Blackstock's wedding video 
Reba will advise Kelly and her fellow coaches, , Chance the Rapper and Niall Horan and their team members ahead of the Knockout Rounds.
Fans are excited for the reunion and have been commenting on 's Instagram feed. 
MORE:
, but Reba has continued to be a part of her grandchildren's lives. 
The couple have two children, River, eight, and Remington, six, and Reba dotes upon them.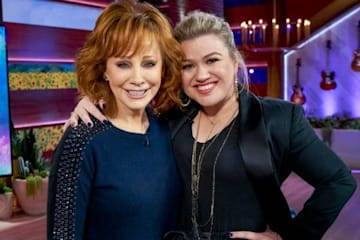 Reba and Kelly are thrilled to be reuinted on The Voice 
After their divorce, the singer and actress opened up about the heartbreaking situation when she said: "You know, I love them both. Brandon's my stepson, Kelly's my good friend… I am pulling for both of them. I hope they're happy and healthy and pull through this. 
"I pray everyone gives them the encouragement they can because they need it right now, both of them do. I love the both of them with all my heart."
RELATED:
It's been a rocky road for the pair, but they are now on amicable terms and even spent the summer in Montana together. 
Speaking to co-hosts and Carson Daly, Kelly admitted that the temporary reunion with her ex was for the sake of their children as it helped them feel more "centered".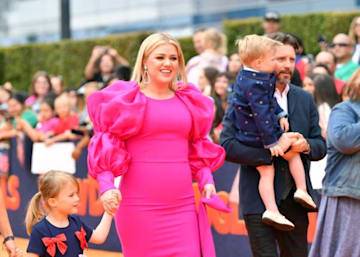 Kelly shares her two children with ex Brandon 
"The kids were with me and with their dad," she said when asked about her summer activities. "It was nice because they usually have to travel a lot because of our separation so we were both in Montana," she added. "It felt kind of the first time, like, I think my kids felt a little more centered as well, so it was nice."
Kelly and Brandon were married for seven years and finalized their divorce in March. Hinting about their messy split, Kelly added about her decision to take time off: "It's obviously been a rough couple of years, so it was really important to me to shut down for a minute."
While the legal disputes between the two have seemingly been resolved, Kelly still must pay $115,000 each month in spousal support until January 2024. Brandon also receives $45,601 a month in child support, even though the singer has primary custody of their two children, and he has them one weekend a month.
LISTEN: The best celebrity news in just 3 minutes!
Read more stories here