The Kelly Clarkson Show undergoes big change to the format in honor of special guests
hit NBC talk show has followed a set format over its four season run, give or take a few virtual hosting days.
The most recently aired episode represented a bigger change for , though, as it saw the set and the host herself transformed.
VIDEO: Kelly Clarkson makes emotional acceptance speech at The People's Choice Awards
The set received a bit of an overhaul, setting aside the comfy couches and coffee tables for an entire news conference panel, fitted with individual mics and a football-themed backdrop.
The cast of the movie took precedence over that segment of the show, with Jane Fonda, Lily Tomlin, Rita Moreno, and Sally Field answering questions in the form of a press junket.
MORE: 
TRENDING NOW:
Even Kelly got in on the fun, abandoning her usual penchant for mini-dresses and flowing maxis for a jersey sporting the number 88 and a pair of black pants.
One of the clips released from the episode showcased the episode's jovial nature as well, in which Jane inquired from the group and the reporters present what a tight end was.
The show switched things up for the cast of
While the other women were just as intrigued, Sally explained with exasperation that it was a football position, to no avail. 
A particularly raucous moment came when the two-time Oscar winner quizzed "What do you do to get a tight end?" and Kelly quipped in return: "Your workout videos."
MORE: 
ALSO POPULAR:
Fans of the show found the segment extremely entertaining, with even Hannah Waddingham leaving a comment that read: "I feel like I'm watching myself in a few years…….and I'm down with that!"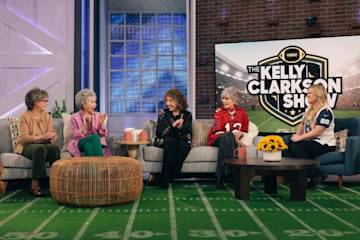 The four leads left viewers in hysterics with their appearances
A fan wrote: "This was absolutely one of your best shows!! Those ladies are hysterical!" while another also gushed: "I want a talk show with all these women every single day. I also want them to adopt me. I want them on speed dial. I want them to solve all my problems."
Read more stories here