Earl Had to Die: The 20 Best Country Songs About Killing Your Man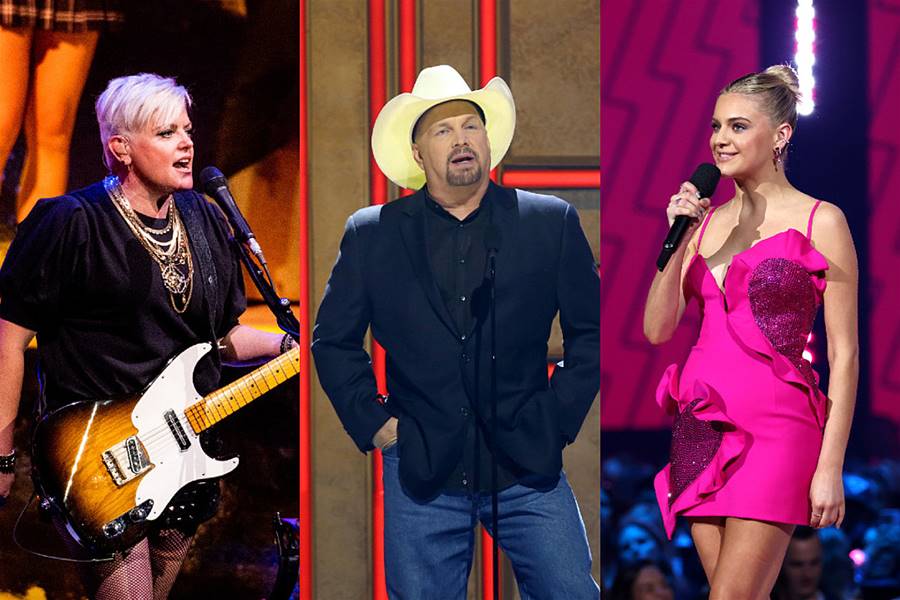 Murder ballads are a centerpiece of classic country, and while they're less prevalent today than they used to be, there's still a whole cache of top-notch songs about men offing their female romantic partners. Less commonplace are songs that go the other way, but fear not: Country also has plenty of songs about women who kill, and we've got the list to prove it.
A few parameters knocked off some obvious contenders for this list. We focused on just one song per artist, meaning that  and  — two country stars with multiple murder songs in their catalogs — each only got one slot. Songs like "Before He Cheats," "Church Bells," "White Liar" and "Kerosene" are all great revenge anthems — but ultimately, even bigger songs pushed them out of the final cut.
The theme was specific enough to narrow things down even further. For a murder to make this list, it had to have at least one male victim — so 's "Martha Divine" was out, despite being one of the genre's finest modern murder songs. More honorable mentions go to 's "Red Headed Stranger" and The SteelDrivers' "If It Hadn't Been for Love," but by the same token, they didn't make this list, either.
What's left is truly epic, and truly villainous, round-up of the greatest kill-your-man songs in country music. Scroll through the gallery below to see our picks for the best revenge hits and worthwhile deep cuts on the theme of murder — and specifically, murdering the man in your life (or convincing someone else to do it for you). Read on, and be sure to let us know in the comments if we missed your favorite song about offing your man.
Earl Had to Die: The 20 Best Country Songs About Killing Your Man
From Lefty Frizzell to Carrie Underwood, country stars have always written about murder. Murder ballads about men who do away with their female love interests are abundant, but there's also a whole lot of great songs about the women who kill -- or have others kill for them. Here are the 20 best songs about, er, disposing of the man in your life.
Jason Kempin, Getty Images
Sure, this uptempo bop of Ballerini's  album sounds fun and playful, but there's a dark undercurrent. It's an anthem for a best-friendship that knows no bounds, not even the bounds of the law. "," Ballerini swears in this irreverent testament to her bond with her best gal pal.
This one's a classic! Perhaps the most famous husband-killing song in country music history, "Goodbye Earl" tells the story of two women who take the law into their own hands after a restraining order fails to keep one of them safe from her abusive husband. Together, the two friends do away with the man themselves -- and they don't lose any sleep over their actions because, as the chorus goes, "."
In "The Thunder Rolls," we find a woman wondering where her husband might have gone, and "." But when he finally pulls into the drive, his eyes tell a different story -- and his wife knows that he's being unfaithful. There's a final verse of "The Thunder Rolls" that Brooks left off the radio version of his song, but for a particularly chilling rendition of the story's dark final turn, check out Tanya Tucker's cover. "the final verse reads. "
Gretchen Peters is one of country music's finest storytelling songwriters, and she's made several forays into husband-killing territory: She's actually the pen behind another song on this list, Martina McBride's "Independence Day." But Peters delves into just as chilling subject matter in her song, "Blackbirds," about a woman who takes her final revenge on a partner who doesn't treat her right. As she carries out the murder, no one's there to catch her in the act: "."
A blend of country and zydeco that features The Chicks on a remixed version (as well as in a live performance from the 2016 CMA Awards), this murky, genre-blending track explores a complex relationship between a young woman and her father. Though she "," the girl's dad ultimately teaches her to be more powerful and dangerous than he is. There's no murder explicitly laid out in the song's lyrics, but the spooky sonic stylings and refrain of "" strongly implies that somebody winds up dead at the end.
Jason Isbell's poetic songwriting skills often lead him into tough territory -- check out "Elephant" for a good cry and a chilling narrative about a friend dying from cancer -- but he imagines something even darker in "Yvette," a song about a female friend whose father is abusive toward her. With a mom who's staying silent instead of defending her daughter, Isbell takes matters into his own hands in this murky, morally ambiguous song.
Two women attending the same man's funeral may look like strangers to the untrained eye, but in "Two Black Cadillacs," they've got a whole lot in common -- and a dark secret to share. It turns out, the man being laid to rest was married to one, and carrying on an illicit affair with the other. Instead of hating each other, the women come together -- and plot out a tragic death that just might not have been due to natural causes after all.
Gillian Welch's "Caleb Meyer" may have come out in the late '90s, but it's the style of the classic old murder ballads of country music, many of which date back to the 17th and 18th centuries and were originally born out of true stories sung by town criers -- aka the tabloids of the time period. In this instance, Caleb Meyer is a man who lives alone making whiskey, but when he threatens a young woman with rape, she fights back -- and Caleb doesn't live to tell the tale.
This track off Chris Janson's 2022  album was the first song he ever recorded that he didn't write himself. Songwriting credits go to another huge country name: Eric Church, who also serves as Janson's duet partner. "You, Me & the River" finds two men alone at night by the Mississippi River, as it becomes clear that one has been engaging in an extramarital affair with the other's wife. The adulterer seems destined for the bottom of the river -- and as the lyrics unfold, it seems like he'll be joining the wife down there, too.
"!" Joyful celebration of patriotism, or the aftermath of a grisly murder? That's the central question in "Independence Day," a soaring and catchy for McBride that follows a young girl going downtown to watch her town's Fourth of July fireworks display. Meanwhile, at home, her dad is a mean drunk and her mother finds a way out for the young girl by sending the house up in flames. "," the young girl concludes towards the end of the song.
Back in 2007, Miranda Lambert went to country radio with guns blazing -- literally -- in this fiery single off her  album. Co-written with Heather Marie Little, the song imagines Lambert on the stoop of her front porch, waiting for her man to make bail and come home. It won't be a happy reunion: Turns out, his abusive actions toward her are what landed him in jail in the first place -- " she sneers -- and now, she's getting revenge. "," she concludes.
In their '90s heyday, sister trio SHeDAISY lit up the country charts with singles like "Little Goodbyes" and "This Woman Needs," but perhaps their spookiest release ever was "A Night to Remember," a song about a wedding anniversary that goes south after the woman reveals that she knows some secrets her man's been keeping about his dalliances with other women. From the sounds of it, things don't end well for either member of the couple: "," plunging them both to their death.