Having her cheesecake and eating it! Make-up free Kelly Clarkson enjoys lunch date with boyfriend Brandon Blackstock
Having her cheesecake and eating it! Make-up free Kelly Clarkson enjoys lunch date with boyfriend Brandon Blackstock
An old proverb says it is difficult to both have your cake and eat it.
But it seems Kelly Clarkson has mastered the trick, as she was spotted enjoying a lunch date with her new boyfriend at a surprisingly low-key location in Los Angeles yesterday.
She took her new beau Brandon Blackstock to a shopping centre Cheesecake Factory outlet in Sherman Oaks, as the down-to-earth pair continue to enjoy the spring of their romance.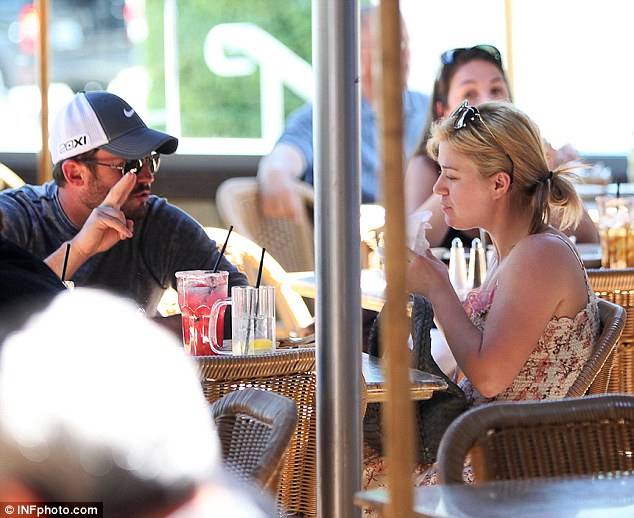 Peace of cake: Kelly Clarkson was spotted tucking into a tasty meal with her new boyfriend Richard Blackstock at the Cheesecake Factory in Sherman Oaks yesterday
Kelly, 30, looked splendid in a long flowery summer dress, which she paired with comfortable sandals.
Meanwhile her 35-year-old boyfriend, who is the he son of her manager, also dressed down in a grey sweater, jeans and baseball cap.
The pair, who started dating at the end of last year, only went public about their blossoming romance earlier this month.
And Kelly has been waxing lyrical about how much joy she is experiencing now she is in love.
Going Dutch: Perhaps Kelly and Brandon were haggling about who was going to pick up the tab
A floral beauty: Kelly looked in fine figure as she pranced around in this attractive flowing summer dress
Checking her voicemail: No doubt the busy popstrel had a battery of messages after she sneaked off for a meal
While promoting her new album Duets she joked about how having a boyfriend was affecting her songwriting.
She said: 'It is killing me. I'm trying to write a tough song and it is coming out like butterflies and rainbows.'
However she also said she would not change having her new man for the world.
The American Idol winner said: 'I love that I'm in a relationship right now. I want a life.
'The past five years or so I've found my groove and my balance.'