Philly Cheesesteak Garlic Bread
Although the exact origin of the Philly cheesesteak is somewhat debated, the general consensus is that this sandwich was created in Philadelphia in the 1930s.  At the time, it began as chopped steak and grilled onions on a hoagie roll. 
Over time, it expanded to include sautéed peppers and then cheese.  The traditional cheese was provolone – a milder cheese with good melting ability.  Then something happened in the 1950's.  Cheez Whiz spread in popularity, and this processed cheese sauce became a popular topping for cheesesteaks.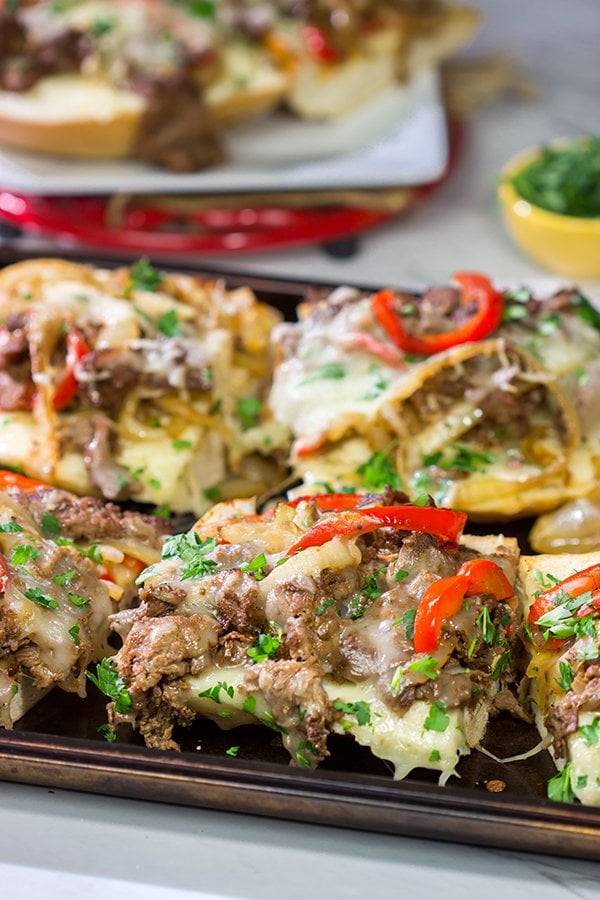 I've never been able to get on the Cheez Whiz bandwagon, so I used provolone cheese for this Philly Cheesesteak Garlic Bread.  However, I know a number of folks who swear that a Philly cheesesteak must include Cheez Whiz.  If you're one of those people, go for it!  In fact, the  once called Cheez Whiz "the  of cheesesteak connoisseurs" (i.e. essential element).
I'll stick with provolone, but you do you.  After all, we're talking shaved steak, onions and peppers on top of buttery, garlicky bread – you can't go wrong with that combination!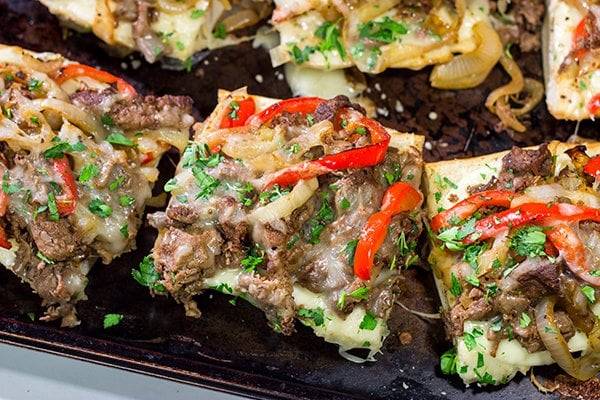 A quick note about the shaved steak on this garlic bread.  Shaved steak is likely available from the butcher at your local grocery store.  I did have to ask where it was located as it wasn't with the rest of the steak.  So if you don't see it, ask!
If all else fails, you can purchase a top round or bottom round.  Then you can make shaved steak at home by freezing the beef, thawing it slightly and then slicing it as thinly as possible.  That is a bit of a pain, though – so just ask your butcher if they can slice it for you.  Either way, shaved steak is a favorite in our house for making steak sandwiches…and now this Philly Cheesesteak Garlic Bread, too!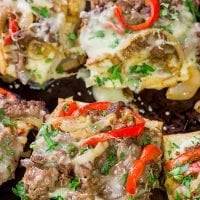 Philly Cheesesteak Garlic Bread
Combine two favorites into one with this Philly Cheesesteak Garlic Bread – shaved steak, peppers + onions, melted cheese…all on top of buttery, garlicky bread!
5 from 6 votes
Prep Time: 10 minutes minutes
Cook Time: 30 minutes minutes
Total Time: 40 minutes minutes
Servings: 8 servings
Calories: 416 kcal
Ingredients
For the Cheesesteak
1
Tbsp
divided
1
thinly sliced
1
thinly sliced
1
thinly sliced
2
tsp
16
oz.
shaved steak
or thinly sliced ribeye steak
1
tsp
½
tsp
½
tsp
½
tsp
For the Garlic Bread
1
loaf French bread
3
Tbsp
melted
1
tsp
¼
cup
1
tsp
Italian seasonings
8
slices
1
cup
shredded
¼
cup
chopped Italian parsley
Instructions
For the Cheesesteak
Using a large sauté pan, add ½ Tbsp of oil and place over medium heat. Once hot, add sliced onions, peppers and garlic. Sauté, stirring occasionally, for 8-10 minutes, or until vegetables have softened. Transfer mixture into a separate large bowl; set aside.
Add remaining ½ Tbsp of oil and increase heat to high. Spread shaved steak out into an even layer in the pan. Sprinkle salt and pepper on top of steak and let cook for 3-4 minutes. Flip steak and continue sautéing until fully cooked.
Transfer cooked steak into bowl with cooked vegetables. Add oregano and smoked paprika; stir until well combined.
For the Garlic Bread
Preheat oven to 400°F.
Slice the French bread in half lengthwise. Place both halves cut-side up on a parchment-lined baking sheet.
Using a small bowl, combine melted butter, garlic, Parmesan cheese and Italian seasonings; stir until well combined. Brush this mixture evenly over the tops of both halves of bread.
Line each half of bread with 4 slices of provolone cheese. Divide steak mixture evenly between two halves and sprinkle shredded mozzarella on top.
Bake for 10-12 minutes, or until cheese has fully melted.
Remove from oven and garnish with chopped parsley before serving.