Cranberry Almond Muffins
When I pulled a pan of these Cranberry Almond Muffins out of the oven, I had one wonky looking muffin. I had overfilled that one with just a little too much batter. You see, I had just a tiny bit of batter left in the bowl, so I decided to add it to one of the muffin tins. I knew as I was doing it that it was a mistake. Sure enough, that muffin outgrew it's wrapper…and then kept on growing. Oops. We've all been there.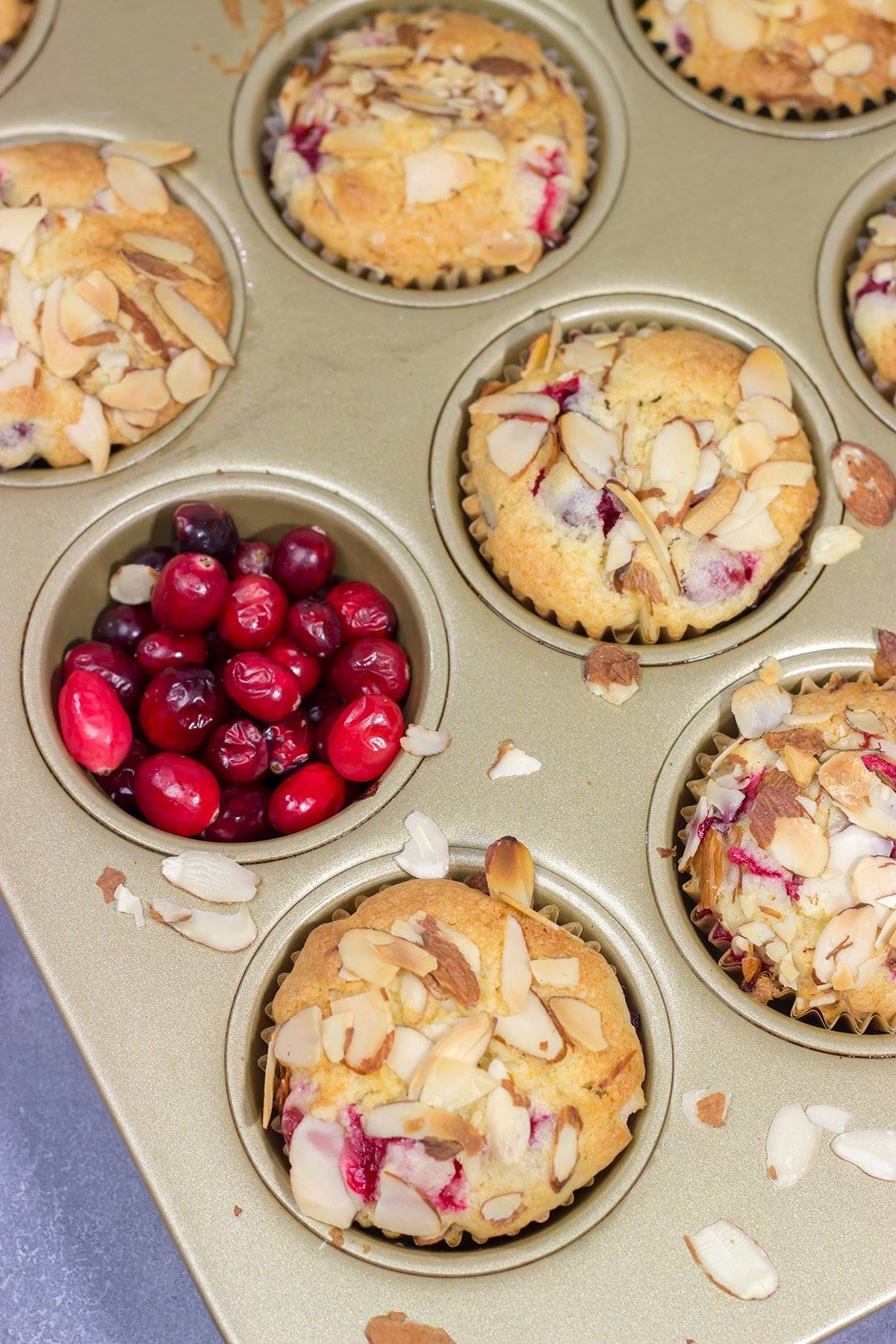 So I did what any normal person would do when faced with this situation. I ate the evidence. More specifically, I peeled the rather large and overgrown top off of that muffin and ate it. Holy cow! The slightly crispy top of that muffin coated with toasted almonds was . I was seriously tempted to just go along and peel the tops off of all of the other Cranberry Almond Muffins! (Note: I managed to show enough restraint to avoid this plan…)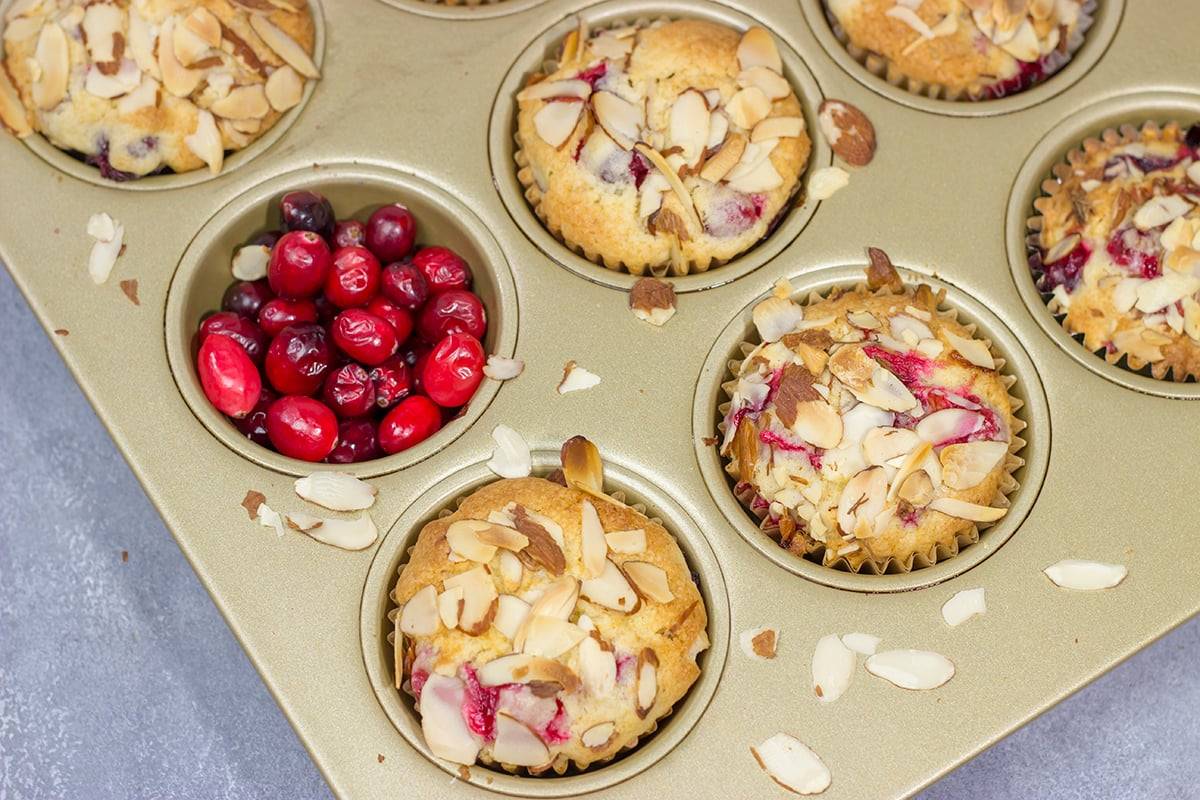 So what makes these Cranberry Almond Muffins so tasty? Well, the base of the muffin itself is quite delicious. The base is light and fluffy (almost cake-like), and it's packed with flavor thanks to the almond and vanilla extract. Add in the cranberries and toasted almonds on top, and you've got one heck of a delicious muffin. Talk about starting the day off right!
One quick note about the recipe for these Cranberry Almond Muffins – it calls for a 1/3 cup of buttermilk. Now unless you just love buttermilk, it's hard to justify purchasing a whole container of buttermilk just for 1/3 cup. You have 2 options here: just use regular milk instead (the muffins will still taste good!) or pick up . I love that powdered buttermilk. I store it in the fridge, and I can whip up however much buttermilk I need for a recipe.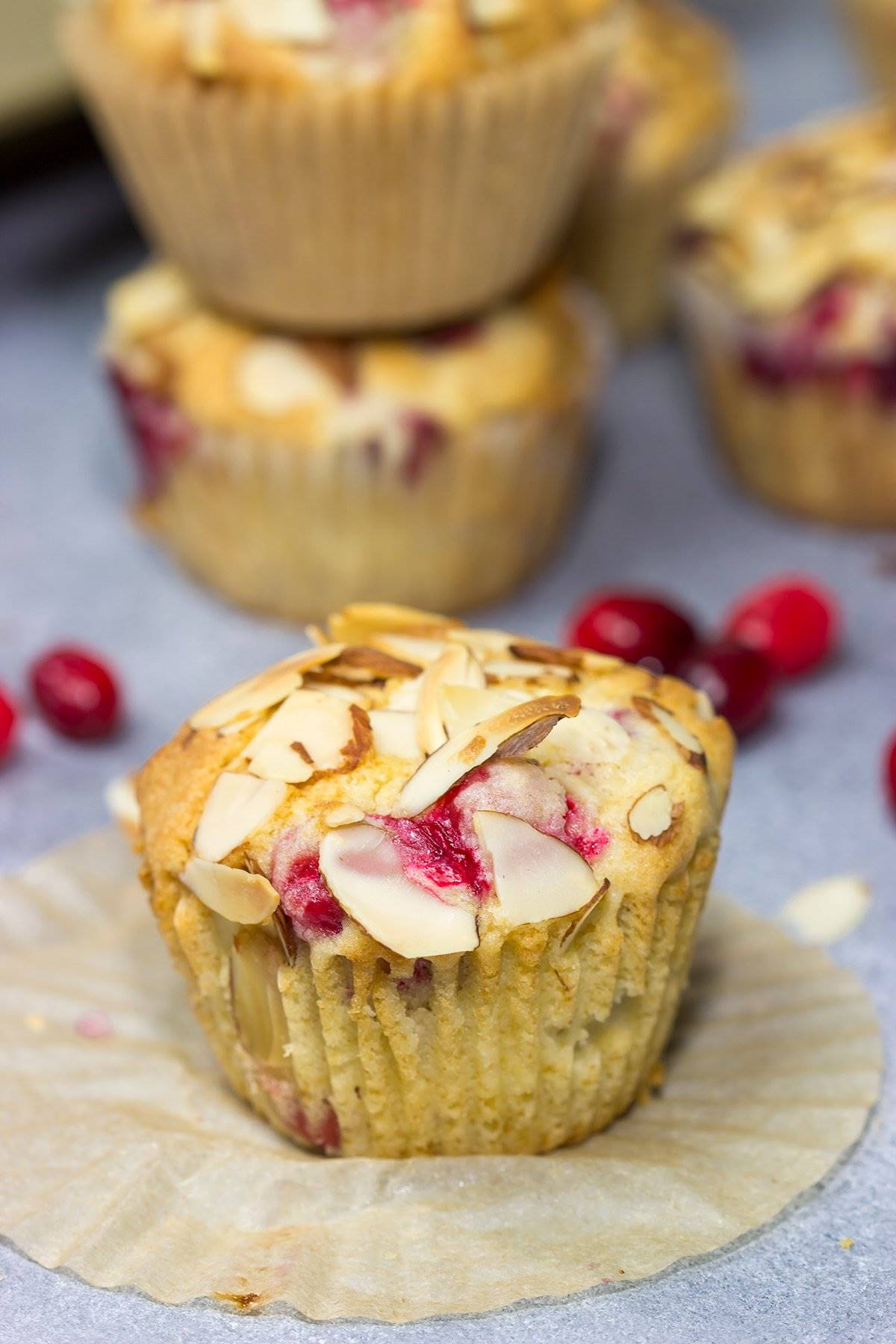 If you're looking for a fun way to bake with cranberries, put these Cranberry Almond Muffins on the list! And try not to go along and eat the tops off of all the muffins, ok? Happy baking!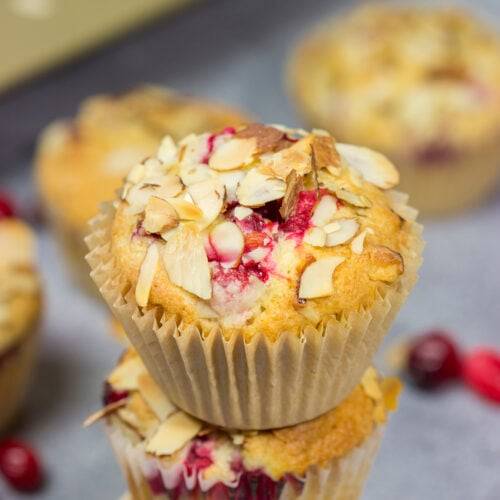 Cranberry Almond Muffins
Packed with cranberries and topped with sliced almonds, these Cranberry Almond Muffins are a tasty way to start the morning!
5 from 7 votes
Prep Time: 20 minutes minutes
Cook Time: 30 minutes minutes
Total Time: 50 minutes minutes
Servings: 18 muffins
Calories: 228 kcal
Ingredients
3 cups 2 tsp 1½ cups 3 oz. 6 Tbsp unsalted butter, softened ½ tsp 3 ⅓ cup 2 tsp 1 tsp ⅓ cup 1½ cups cranberries fresh or frozen 1 cup divided
Instructions
Preheat oven to 375°F.
Lightly spray 2 muffin tins with baking spray, or line muffin tins with paper liners.
Using a medium mixing bowl, add flour and baking powder; stir until well combined. Set mixture aside.
Using an electric mixer, cream together sugar, butter and salt until light and fluffy (~3-4 minutes on medium speed).
Using a medium mixing bowl, whisk together eggs, buttermilk, vanilla extract, almond extract and oil. Pour liquid mixture into bowl of mixer in 2 additions, mixing well after each addition.
Add flour mixture and mix on low until well combined.
Fold in cranberries and ¾ cup of almonds.
Divide batter evenly into prepared muffin tins.
Sprinkle the remaining sliced almonds on top of the muffins before baking.
Bake for 28-30 minutes, or until a toothpick inserted into center of a muffin comes out clean. (Note: Check the muffins after ~20 minutes. If the almonds on top are browning too quickly, tent the pan with foil.)