Jessie James Decker Blasts United Airlines for Humiliating Her Pregnant Sister Amid Popcorn Fiasco
had some strong words for United Airlines over the weekend, after her sister Sydney had a less-than-smooth experience during a flight.
According to a since-expired Instagram Story on the country singer's page, Sydney — who is currently 22 weeks pregnant — felt "humiliated" after a flight attendant allegedly demanded she clean up some popcorn spilled on the floor by her kids.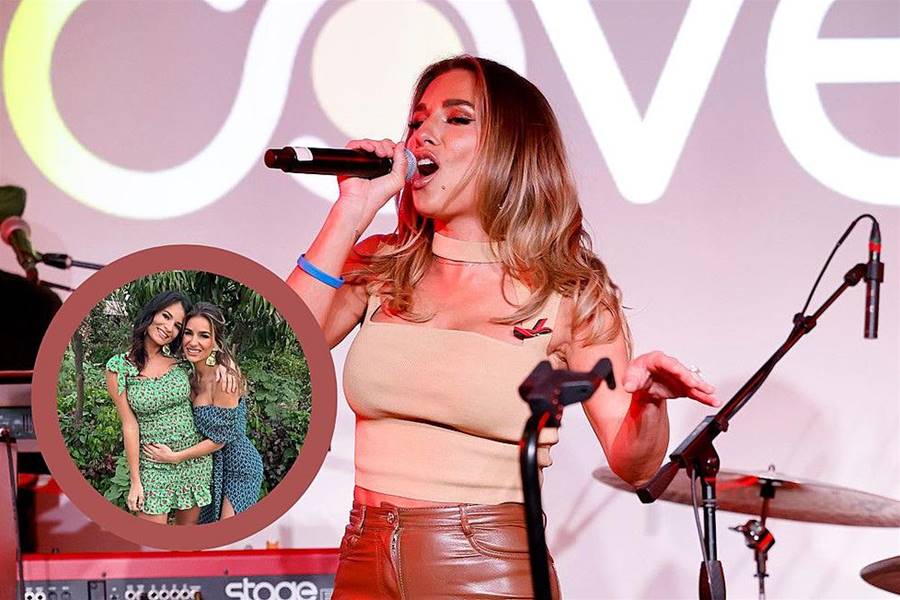 "As you know, she is five months pregnant, high-risk and also traveling alone with her two small children," Decker recounts (quote via .) "Blaire accidentally spilled some popcorn in the aisle, and the flight attendant came up to Sydney with a trash bag and a wet wipe, telling her the captain wants Syd to clean up every drop."
Sydney — who is mom to 2-year-old Blaire and 5-year-old Brooklyn Rae, with a baby boy on the way — was mortified by the incident, Decker goes on to say. "My poor sister is on her hands and knees, crying in the aisle, completely humiliated and exhausted, with her children while everyone else watched. Way to go, United," the singer adds.
Elsewhere in her Instagram post, Decker discusses the event with Sydney herself, who explains that the flight attendant said the popcorn on the floor presented a safety hazard. However, she also says it was the airline who gave her children the popcorn in the first place.
"You guys, this whole time I'm thinking that this popcorn is something Sydney just picked up at the little newsstand. Sydney had two flights, and United, on the first flight, they gave them both popcorn," Decker goes on to say.
The country singer wasn't the only family member outraged by how the popcorn fiasco played out. Sydney's husband, pro baseball player Anthony Bass, also shared his outrage on social media. Bass' Twitter post — which racked up nearly 63 million views in two days — includes a photo of the popcorn on the airplane floor.
The issue quickly snowballed into a hot topic, with fans weighing in on whether or not Sydney should have been expected to pick up the popcorn.
"Personal accountability and responsibility is a great lesson at any age," one commenter replied.
"She was flying alone. W two kids. Pregnant. Just stop. We all have jobs. Crews do this every day. It's popcorn. Not puke. Vacuums work great," another opined.
A subsequent tweet from Bass added that he had been in touch with United Airlines about the incident, and that the airline planned to take care of matters "with the flight attendant internally."
Though the incident got heated, it seems that Sydney herself was keeping her sense of humor: She subsequently posted a photo of her younger daughter holding a bag of popcorn, captioning the shot, "She so cute."
See Country Music's Biggest Feuds: 
Tim McGraw vs. Curb Records
Tim McGraw's battle with Curb was especially nasty. Curb sued the singer in 2011, claiming breach of contract. He counter-sued to get out of that contract, which he claimed was slanted and unfair. In 2013 McGraw prevailed when a judge threw out the last of Curb's arguments, and he has gone on to a very successful career with Big Machine.
Johnny Cash vs. the Grand Ole Opry
 is one of very few artists to be banned from the Grand Ole Opry. He earned his banishment after smashing the floor lights out with a microphone in 1965. Thankfully, the two sides made up before Cash died.
Sugarland vs. Kristen Hall
 originally consisted of three members when they hit it big in 2005, but by the following year Kristen Hall had departed for unspecified reasons. In 2008 she filed a $1.5 million lawsuit against her former bandmates, claiming that she had been unfairly deprived of money owing to her. That lawsuit was settled privately in 2010 without going to trial.
Dolly Parton vs. Porter Wagoner
They were wildly successful together in the '60s and '70s, but when  left Porter Wagoner's band in 1974 (after writing "I Will Always Love You" for him), he filed a breach of contract lawsuit. Later, Parton revealed that things were often tense, citing what she says was his chauvinism. They reconciled before Wagoner died in 2007.
Miranda Lambert vs. Eric Church
This feud started when  took a swipe at 's man. Actually, he took a swipe at reality singing contests when , "Honestly, if Blake Shelton and  f—ing turn around in a red chair, you got a deal? That's crazy. I don't know what would make an artist do that. You're not an artist." Lambert took exception via Twitter, but while it made headlines at the time, the feud was short-lived, and there appears to be no ill will between them.
Travis Tritt vs. Billy Ray Cyrus
The feud between these '90s stars began when Tritt called out Cyrus' megahit, "Achy Breaky Heart" and called the video an "a-- wiggling contest." Cyrus later referenced that in his speech when he won Favorite Country Single at the 1993 AMAs. The feud was big news for years, but Tritt later acknowledged that he had been wrong in his comments to begin with.
Toby Keith vs. the Dixie Chicks
This was one of the nastiest feuds ever. It began when Natalie Maines called Keith's "Courtesy of the Red, White & Blue" ignorant, and escalated after Keith started displaying a doctored photo at concerts that appeared to show the Chicks with Saddam Hussein. The feud raged on for a long time, but Keith decided to drop it after one of his band members lost a daughter to cancer, realizing it simply wasn't important.
Randy Travis vs. Lib Hatcher
 was married to his manager, Lib Hatcher, for 19 years. They divorced in 2010 and went on to sue one another over a variety of business and personal disputes. The spotlight on the feud died down after Travis suffered a stroke in 2013.
Hank Williams Jr. vs. ESPN
 found himself in the middle of a media firestorm in 2011 after he compared President Obama to Hitler in an interview with Fox News. He was canned from his longtime gig singing the theme song to ESPN's , and later wrote a song about it. The furor died down enough so that he could eventually poke fun at the controversy in a hilarious appearance on the CMA Awards.
Zac Brown Band vs. the Lost Trailers
 let the Lost Trailers record his song "Chicken Fried" in 2006, and then changed his mind after they'd begun promoting it as their first single. The switch-up damaged the Lost Trailers' career, but paid off handsomely for Brown and his band. "Chicken Fried" became their first No. 1 hit and landed at  on the  list.