This oversized pink bunny suit was hilarious enough to warrant an outfit repeat!  once again rocked his full-size pink Easter bunny costume in 2023 — ears and all — for family Easter celebrations with  and her three sons.
The bunny suit was on full display in a social media post from Stefani in celebration of the holiday. On Monday (April 10), she shared a montage of Easter video clips, including scenes around a family table, Easter baskets and gorgeous spring weather. In the middle of all the fun, Blake the Easter Bunny makes a special appearance, surprising the kids with a hug in his bunny suit and overseeing the traditional Easter egg hunt.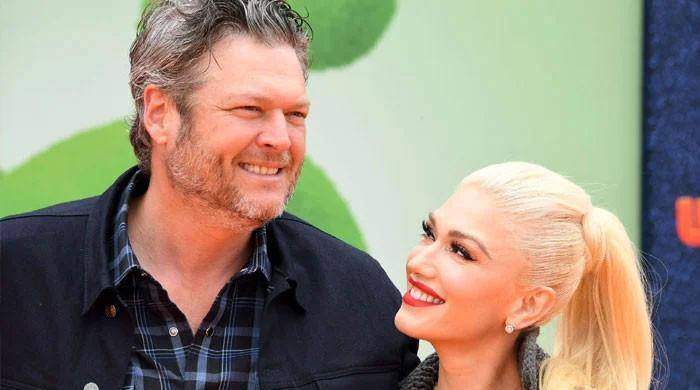 At the end of his clip, Shelton — still in costume — plants a smooch on his pop superstar wife.
"Bunny [Blake Shelton] strikes again!" Stefani writes in the caption of her post. "Hope u had a hoppy easter."
Fans will recall that Shelton first donned the bunny suit for Easter 2022, presumably to bring some joy to the kids at the party (Stefani's youngest son, Apollo, is nine years old). But things took a turn when he tried to pose for a picture with  host Carson Daly's toddler daughter, Goldie, who seemed  by the giant pink bunny costume.
Goldie doesn't make a repeat appearance in the newest bunny suit video, although some older children seem delighted by the costume, running up the stairs to meet Shelton for a hug. However, he just might have creeped out some family pets: The clip montage shows shots of a cat and a dog, neither of whom seem all that enthusiastic about running up to greet the Easter Bunny.
Family life has been a priority for Shelton in recent years, and was one of the driving factors behind his decision to step down from his long-standing coaching role on  after the show wraps Season 23. The singer has said that being a stepdad to Stefani's three kids — whom Stefani shares with ex-husband Gavin Rossdale — is a role he takes very seriously.
"It's a different kind of self-worth. Maybe it's the opposite of self-worth, because you put yourself way down on the rung, and they move up ahead of you," Shelton , as he discusses his reasons for wanting to prioritize family time.
10 Blake Shelton Facts You Probably Didn't Know
In this list of 10 things you didn't know about Blake Shelton, you'll learn what the singer thought of his '90s mullet, what his pet peeves are, what songs he sang when he entered pageants as a kid (yes, really!) and more.
No. 1: Blake Shelton used to have a pet turkey ... named Turkey
This isn't a real picture of Shelton's turkey. In an interview with  in 2003, Shelton spoke of his hopes to bring Turkey to the next awards show he attended. "Up until this point, [Turkey]'s been to Arkansas one time. He has been to Oklahoma, which is where he was born, and now he lives in Tennessee. So, I feel like, without me, he doesn't get to do things, and I feel a responsibility to show him the world," the singer said. Sadly, Turkey wasn't meant to attend awards shows. He died of heat stroke in June 2003, per .
No. 2: He was invited to join the Grand Ole Opry via Twitter
Blake Shelton was the first person to ever be  via Twitter. The actual tweet read: "@blakeshelton, you're invited to join the Grand Ole Opry. See you on 10/23/2010!" Shelton, being the active Twitter user he is, promptly responded, "Hmmm... Let me think... OK!!!!!!!!" Trace Adkins was on hand to get a big hug from the Oklahoma native. 
No. 3: His biggest pet peeves: under-dressed people and bare feet
Shelton once told CMT that he hates when sees "somebody standing on the stage of the Grand Ole Opry or some formal place and they're wearing a T-shirt and baseball cap," calling it "unacceptable." He also hates bare feet, pleading with fellow artists to "cover [their] stinkin', nasty feet" in music videos. According to Shelton, "Flip-flops aren't even acceptable." This kind of explains why Shelton is almost always wearing a jacket on , doesn't it?
No. 4: He believes he has one of the "crappiest tattoos in the world"
Shelton drew his own tattoo, and it's supposed to be deer tracks, since he loves to hunt. However, people often mistake the tracks for something else... "To this moment, people still come up to me and say, 'Man, ladybugs ... that's cool. What does that mean to you?'" the singer reveals, hilariously. "I probably have the crappiest tattoo — not only in country music — but maybe the world," he . He later had the barbed wire added to make the tattoo "more manly." Good friend  is particularly quick to make fun of Shelton's tattoo.
No. 5: A fan once terrified him by giving him an iguana as a gift
"We were playing a fair, and a few people were handing me stuffed animals and flowers, but one person handed me a paper sack," Shelton told the  back in 2008. "So I took all the stuff back to the bus. I put the sack in my lap and opened it, and a live iguana jumped out of the sack and onto my shirt. I screamed like a little girl! I think it took a year off my life — it scared the crap out of me."
No. 6: He'll defend that mullet
"Nobody else in the world seems to think it was as awesome as I still think it was," Shelton once told . The singer used to have a mullet, and he refused to cut it, despite people telling him he looked bad. "Basically, it has gotten to the point where it is just a matter of pride. And I know it looks like crap, but it is just more fun to me to irritate people than cut my hair to satisfy them," he recalls of his days with long locks. During the pandemic he flirted with bringing it back but common sense got the best of him.