Miranda Lambert is mourning the loss of her beloved dog Thelma.
The country songstress, 39, sadly said goodbye to Thelma on Monday, eight years after adopting the Great Pyrenee to look after her farm near Nashville.
Lambert shared memories of the adorable pooch as she paid tribute to Thelma on Instagram on Tuesday.
In the caption, Lambert described the idyllic life Thelma led as a devoted watch dog on her property, before urging followers to 'love a shelter pet.'
'May 1 , 2016 I adopted 2 beautiful Great Pyrenees named Thelma and Louise to watch over one of my happiest places on earth,' the animal advocate began. 'My farm outside of Nashville. The Kitties , chickens and mini horses needed to be looked after and these 2 girls have done that since the day we brought them home.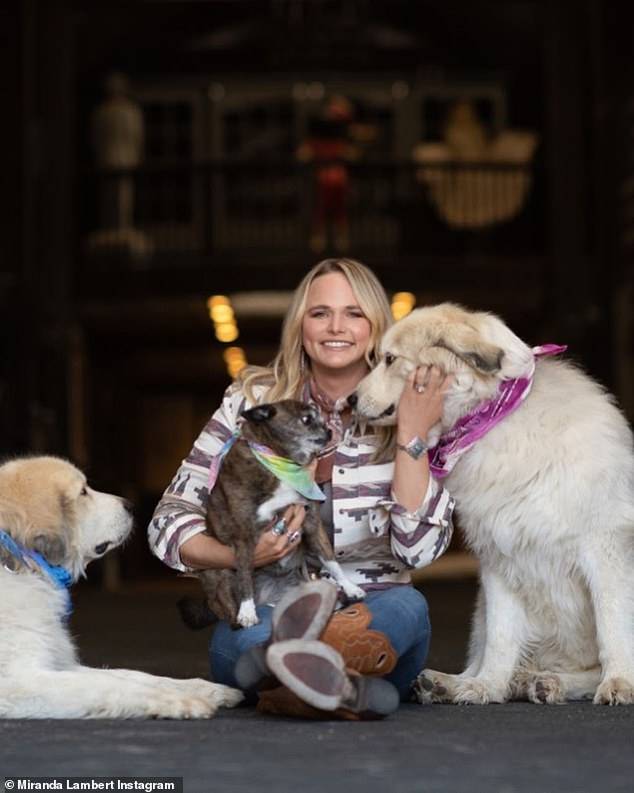 'I loved her with all my heart': Miranda Lambert is mourning the loss of her beloved Great Pyrenee Thelma 
'They rode on my bus all the way from Dallas to Nashville and on that 10 hour drive I fell in love with them. Yesterday we had to say goodbye to our sweet Thelma. 
'She spent her days lounging in the barn and her nights keeping watch over all of us. She lived the last 8 years with no fences, just freedom to do what she did best. Love and protect. I loved her with all my heart,' she wrote.
'Louise has retired from her farm duties and is getting all the more love and snuggles from Delta, Bellamy, Cher , Brendan and me. 
'It hurts so bad to say goodbye to these sweet companions but their love is always worth it. How lucky are we do get to have friends like Thelma.
'I am so proud to have been part of her story. Thank you to my friends and farm managers Julia and Tommy for taking such good care of her and everyone of my fur babies and loving them like they are your own. 
'We all miss you Telm Telm... Y'all don't forget , love a shelter pet.'
The post included plenty of snaps Thelma 'loving and protecting' Miranda's home.