Inside 10-Year-Old Ryland's "Cheeky" Audition That Brought Simon's Voice Back
On , Ryland, a 10-year-old English magician, performed such an amazing Audition that Judge s lost voice rematerialized.
"You have given me, almost, my voice back," croaked Simon, who has been during Season 18 on . "You really have magic powers." 
"That was a great audition," Cowell added. Fellow Judges , , and all enthusiastically agreed.
What to know about Ryland
Ryland is a magician from England, who's been honing his craft since he was two. Last year he reached the semifinals of Season 15 of with a remarkable Rubik's Cube illusion. (Cowell was a Judge.) 
Ryland knows how to pull a charming story out of thin air. "I was born with magical powers," he told the audience. "My dad is a magician and he gave me some of the magical powers that he didn't need any more."
He's got big goals. He wants to "have a show in Las Vegas like Penn and Teller." And he's got plans for the $1 million prize money. I'll give some to my mom, my sister, my dad, and spend the rest on Legos."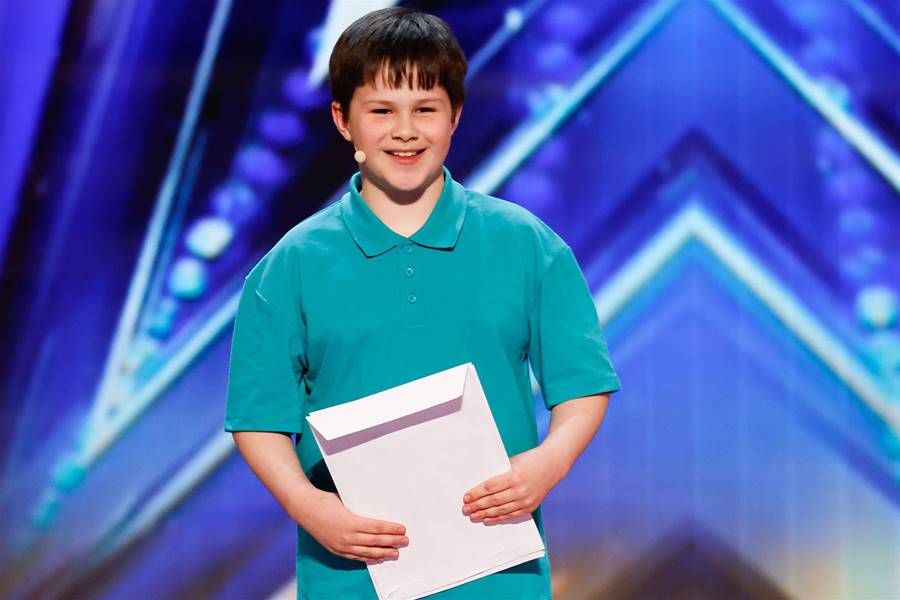 Ryland performs on

AGT
Ryland performs during Season 18 Episode 5 of America's Got Talent. Photo: Trae Patton/NBC
For , Ryland executed a complex magic trick all about revealing "a magic word." 
He began by handing each of the Judges an envelope stuffed with something secret. "Don't peek inside," he instructed. "Don't let anyone else touch them. We'll get back to them later." 
Ryland was joined on stage by several "friends who love magic." Each held numbered cards. Judges chose one apiece. Ryland placed the cards in a four-slot holder as they instructed.
The cards were shown to have pictures on them shaped like letters that spelled the magic word SCAM. 
By the time Ryland was done, SCAM appeared everywhere — on pictures inside the Judges' envelopes, on the shirts of Ryland's magic assistants, and, amazingly, around the studio. The word was SCAM, but Ryland is the real deal.
The 

AGT

Judges react to Ryland
Heidi Klum: "Your magic was magical. I loved it."
Howie Mandel: "I like you and I like magic. You are funny, you are talented, and I think everybody here loves you. You are amazing."
Sofia Vergara: "That was so much fun for us. You're so comfortable up there. You were having a good time. Congratulations." 
Simon Cowell: "I like him. He's cheeky," said Cowell, who was no longer speechless. He reflected on the 10-year-old's career dream.
"Skip school," Cowell joked. "Go straight to Vegas."
The four Judges all conjured "Yes" votes, before marveling  at Cowell's vocal comeback.
For magical moments, tune in to , airing Tuesdays at 8/7c on NBC, and streaming the following day on .