Lebanese authorities' arrest and investigation of prominent comedian Nour Hajjar, solely in retaliation for his jokes, represents a new escalation in Lebanon's crackdown on public criticism, the Coalition to Defend Freedom of Expression in Lebanon said today.
Lebanese judicial authorities should refrain from bringing charges against Hajjar, and others, prosecuted merely for peacefully expressing their opinions, and stop using insult and defamation laws to limit criticism of the country's political, religious, or military authorities.
"Comedy has an important social function and our comedians should be granted the widest legal protection, especially when they are criticizing public and religious authorities or practices, in a country ruled by legal impunity," said Ghida Frangieh, head of litigation at The Legal Agenda.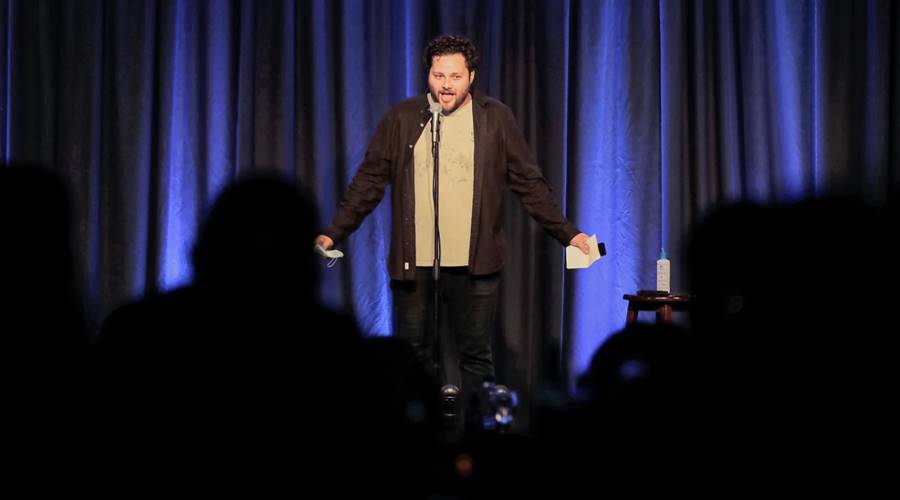 Lebanon's prosecutorial judges have investigated Hajjar in relation to two separate cases in the last week. On August 25, Lebanon's Military Prosecution summoned him for interrogation at the Military Police headquarters in al-Rihannieh, southeast of Beirut, in response to a joke he had made on stage about Lebanese army soldiers taking up second jobs as delivery drivers due to the economic crisis and the devaluation of their salaries in Lebanese pounds. Following his interrogation, Hajjar was temporarily detained and released 11 hours later, only to be summoned again on August 29 to finalize the paperwork for his release.
On August 29, as he was leaving the Military Police headquarters, officers belonging to the Internal Security Forces' (ISF) Criminal Investigations Division arrested him, in relation to a claim submitted against him by a leading member of Dar al-Fatwa, Lebanon's highest Muslim Sunni religious authority, Hajjar's lawyer told the Coalition. Dar al-Fatwa claimed that a comedy sketch that Hajjar performed on stage in 2018 was "an insult to Islam, Muslims and endangers civil peace in the country." According to Article 10 of the Lebanese Code of Criminal Procedures, the statute of limitation for prosecuting such acts is limited to three years and, according to legal experts, had therefore expired at the time of Hajjar's arrest.
Upon the orders of Lebanon's top prosecutor Ghassan Oueidat, officers then took Hajjar, without informing his lawyer, to the division's headquarters at the Justice Ministry in Beirut, where they interrogated him for several hours. Following the interrogation, Hajjar was temporarily detained and only released later that evening, after dozens of protesters gathered outside the ministry calling for his release.
Hajjar's lawyer was able to attend both interrogations, and the two reports filed against him currently remain pending.
Hajjar's arrest is part of an escalation in Lebanese authorities' crackdown on critical public speech, amid a crushing economic crisis that has impoverished the majority of the population. In 2023 alone, Lebanese authorities have summoned journalists, lawyers, teachers, and now a comedian, for merely criticizing the actions of government and public officials. In the meantime, Lebanese authorities have failed to make any progress on the implementation of crucial economic, financial, and justice reforms. In 2022, Lebanon's Military Court convicted another comedian, Shaden Fakih, of "harming the reputation of the ISF" and "insulting its members", and sentenced her to pay a fine in response to a recorded prank call she had made to the ISF and later posted online.