On a pretty cul-du-sac 25 minutes south of Nashville, Nate Bargatze lives in sprawling two-story brick house that doesn't stand out. He'd owned the house for a couple years before the neighbors realized the man Jim Gaffigan told Esquire was "one of the top up-and-coming comics" and Marc Maron told Rolling Stone was "a comic who should be big"  lived down the street.
For the preternaturally likable comedian, whose template is the foibles of his own life, that's the way he prefers it. Not one to crave the spotlight, the man whose "The Greatest Average American" Netflix special yielded a 2022 Grammy nomination for comedy recording is more than happy being just like his audience. 
The way he sees it: "I assume I'm like everybody in the audience, and I could be friends with everyone out there. We're all the same. We all have relatives, families, lives. It's human-to-human interactions, the same problems. Start there."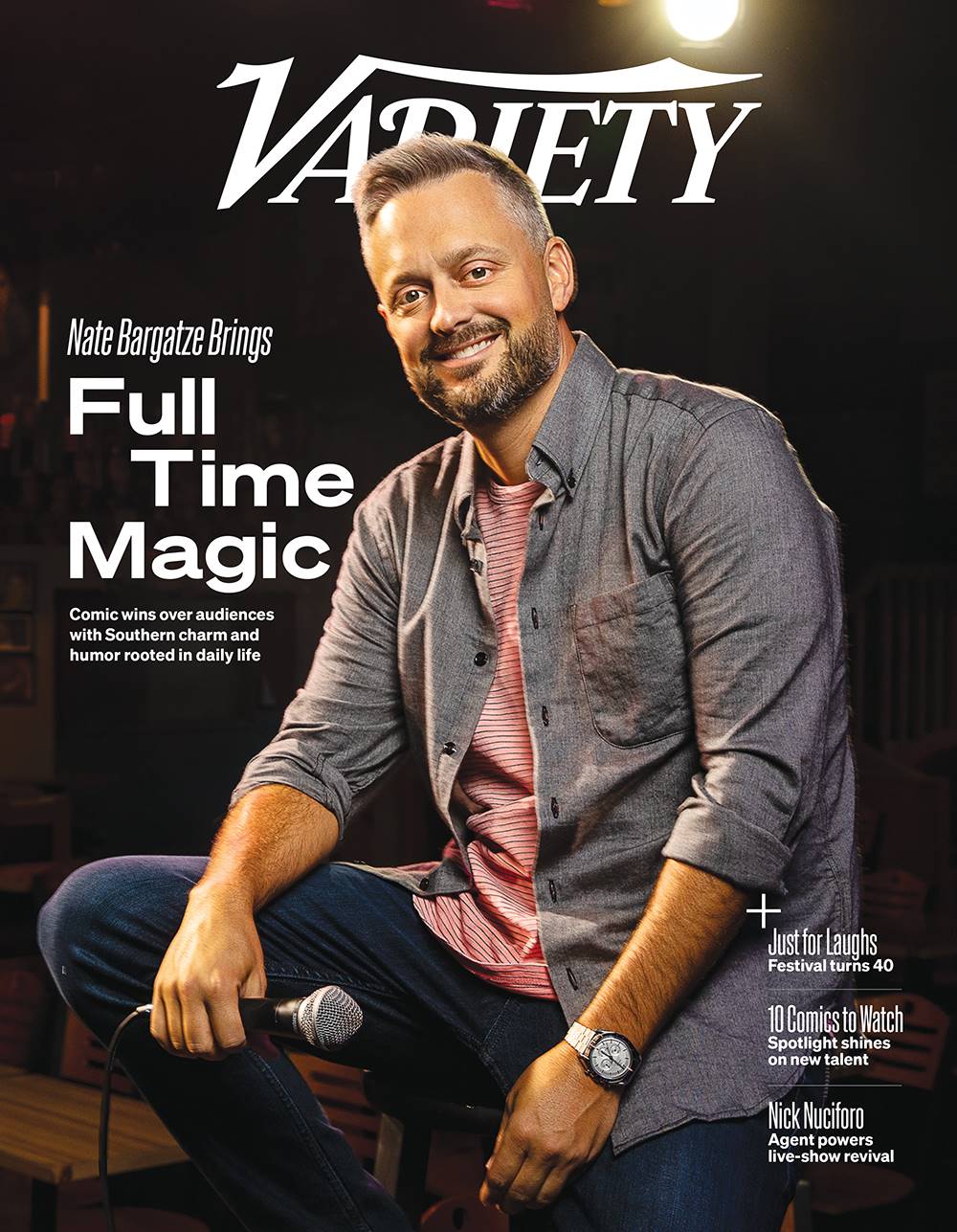 Bargatze has been a comic for 20 years, and created a style uniquely his own by recognizing the humor in small things. But it also nails just about everyone else, too.
He makes it sound so simple. Two decades into a career in which the soft-spoken Everyman has created a world from musing about a life that could happen to any suburban 20-, then 30-something, he quietly carved out a profound space in comedy.
Two Netflix specials — 2019's "The Tennessee Kid" and 2021's "Greatest Average American" — are the tip of the achievements, alongside his 2015 special "Full Time Magic." Beyond countless comedy festivals, he's played numerous music fests, including Bonnaroo and South by Southwest.
His ability to get out there and mix it up makes Bargatze the kind of comic people want, or even need, to see. During the pandemic, he adapted, performing dates to people in their cars at drive-ins, stadium parking lots and at Universal Studios, where his latest special was filmed.
"It was important to him to get back out on stage and give his fans the gift of laughter," says Nick Nuciforo, UTA's co-head of comedy touring, of the unconventional approach to continue Bargatze's growth during COVID. "We innovated and built a tour of drive-in movie theaters and socially distanced parking lot shows. That tour helped set up his Netflix special, 'The Greatest Average American,' which was shot outdoors at Universal Studios Hollywood theme park. Nate was fully prepared and totally unfazed by the elements, which included several helicopters flying overhead while taping the special."
Bargatze now has a film in development, a September special slated to be shot at the Celebrity Theater in Phoenix and his weekly "Nateland" podcast, billed as "all things comedy." "Nateland" features the comic and friends musing on topics from aliens to candy, maps to hotels, deep diving into what could be termed "Nate Think."
Anyone who watches Bargatze's deeply personal comedy knows a great deal about him. He believes the less distance between the man onstage and the actual human creates the best connection. Not that he's documenting every moment everywhere — "There's something to be said for mystery. I like mystique" — but the slight kid from Brentwood, Tenn., isn't shy about using real moments from his life, whether being yelled at by a clown (his father), being sent up by an Applebee's waitress (his then co-worker, now wife) or pranking his friends (he has an infamous bit about rewrapping his friend's burger with a bite out of it), front and center when he's onstage.