In March of 2020, Nate Bargatze was gearing up for a year of touring in preparation for a new Netflix special that September. Everything was looking like it was falling into place. But as we all know, none of those things would come to be. Instead of what he had planned, which was a line of theater shows, Bargatze wound up taking to the road, playing socially distanced clubs and even a drive-in tour, making the best of a bad situation however he could.
All of this culminated in a new special, , that came out last week. As you watch the special, there's no secret about when this was filmed. He mentions it sporadically. You see the audience with masks on. The fact that Nate is getting heckled by helicopters is only further proof. But with all of that being said, you quickly forget about all of the obstacles that Bargatze had to overcome just to make this special.
It may have been filmed during a pandemic, but it's hardly a "pandemic special". While he does address it, you'll have no problem watching it 5 years from now and not feeling like it's a time capsule or dated in any way. Just as his comedy has always had that relatable and universal element to it, much of where Nate's new material takes us extends far beyond the moment that we're currently in. It's perhaps the first comedy special we've seen filmed post-March that feels like it can stand on its own. At its core, it's just another killer f*cking hour from one of the hardest working comics we've got out there today.
We recently spoke with Nate Bargatze about his new special, how it came together, filming it at Universal Studios in Hollywood, gauging laughter (or lack there of) at drive-in shows, the evolution of his podcast, having a truck crash into his face, and the importance of bombing.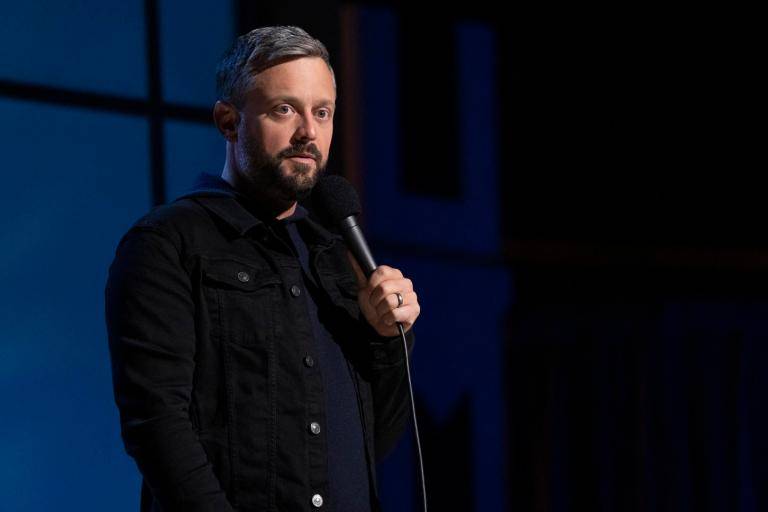 It's been less than a year since we last talked in July. Back then, nobody knew when a special could be filmed again. And here we are a mere 8 months later, and you have a new special out.
I did not expect it. The plan was to have one come out. I'm actually on track to what my original plan was, which was to have one come out. And I thought we would do it [last year]. But then once this COVID stuff hit, I was like "I don't know if we're gonna get to do it."
It was kind of like quick. We were planning on doing it and they were finally went "Look. We're gonna be able to do it with the proper tests and all that kind of stuff." And I was like "Alright. Well let's do it." So it is very surprising that the special is coming out. (MAYBE CUT?)
How far out was the special before COVID hit?
So the original plan was, I was on your back in March when the COVID stuff hit. I would've just done all the theater dates and was planning on probably taping the special last September. And then COVID happened, everything got pushed, and I was like "Alright. Well I don't know when I was going to tape the special." And then we're talking to Netflix about it and then it was just trying to find the time. No one knew an answer.
So I kind of at least had my hour done. I would've liked to have done more [shows] with it, just to get it all fine tuned and get it to where it needed to be. Then I set up 20 drive-in movie theater dates. Then they said "Alright. Let's do the special after that." And so I at least got to do those and at least do the hour like 20-something times. Normally I would've been doing 50-60 shows leading up to that special.